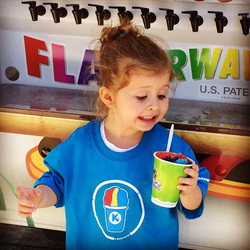 "I appreciate being able to "team up" with our local Kona Ice, have a fun event and give back to our community. It's a win-win." Pat DiCiccio, Orthodontist
Fresno, California (PRWEB) October 21, 2015
This summer DiCiccio Orthodontics hosted "Patient Appreciation Parties", every Tuesday for nine weeks, inviting Kona Ice of Fresno to serve shaved ice to patients, families and friends. Mischelle DiCiccio, marketing coordinator for DiCiccio Orthodontics and the local board president of the S4L Fresno/Clovis chapter worked with Kona Ice this summer because not only do they provide a great treat to beat the heat but are involved with giving back to the community.
Kona Ice ran a national campaign called #CelebrateLife Instagram. During one of the "Patient Appreciate Parties", Mischelle took a photo of Sofia enjoying a Kona Ice and entered it in the campaign. A few weeks later, Mischelle was notified that Sofia won a t-shirt. Immediately, they were invited to entered the grand-prize contest and cited Smile for a Lifetime as their chosen charity and won!
"Never in my wildest dreams would I have thought that we would win! I couldn't believe it when they told me we were one of their grand prize winners! We love working with Kona Ice and supporting a local company that has a mission similar to our own of giving back to the community!!" declared Mischelle.
Next week, DiCiccio Orthodontics will receive a donation to their Smile for a Lifetime chapter from the summer events, plus a thousand dollar check from the national Kona Ice #CelebrateLife Instagram GiveAway as a grand prize winner!
Mischelle DiCiccio shared "We want to make this a community event. The celebration will take place on Monday, October 26th, 2015 from 3-5 p.m. at 7055 North Fresno Street, Fresno, CA 93720. Bring your family and friends and enjoy a free Kona Ice with the DiCiccio Orthodontics team and visit with some of their S4L scholars!"
Since 2011, Dr. DiCiccio has awarded twenty-nine orthodontic scholarships to children in the Fresno/Clovis area. Awardees are required to participate in a "pay it forward" program giving back to their community through service. Winners are selected through a competitive process by a local screening committee made up of members of the community. Those who apply must have an orthodontic and financial need. All S4L programs provide orthodontic scholarships to children ages 11-17 years of age who struggle financially to afford braces. To find out if you or someone you know may be eligible for an S4L scholarship in the Fresno/Clovis area please CLICK HERE.
For more information please call (559)225-2251 or visit our website at:http://www.diciccioortho.com .