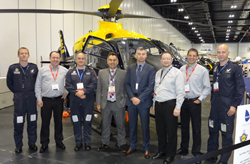 In partnership with Bond Air Services, we are delighted to deliver this first aircraft to NPAS at such a big event
Halifax, Nova Scotia (PRWEB) October 15, 2015
The first upgraded NPAS EC135 T2+ helicopter was delivered to NPAS at the Helitech International show last week.
Bond Air Services delivered the aircraft to the customer after carrying out much of the modification work at its Staverton facility in the west of the UK.
This first upgraded helicopter boasts a custom mission system based around CarteNav's (http://www.CarteNav.com) AIMS-ISR® mission management software, an L3 Wescam MX-10 Electro-optical/infrared camera, Britannia 2000 CAMC mission computers, a Nightsun XP searchlight, and Avalex displays.
With the recent modifications and reduced weight, the aircraft's endurance has been increased to over 2 hours, and the upgraded mission system, including a powerful map engine and comprehensive augmented reality, has provided greatly increased capability to NPAS.
CarteNav's VP Business Development, Steve Watson said "In partnership with Bond Air Services, we are delighted to deliver this first aircraft to NPAS at such a big event".
The further six helicopters will be delivered to NPAS over the next twelve months and will all have the same AIMS-ISR® mission software.
About CarteNav Solutions Inc.
CarteNav Solutions Inc. is an international leader in mission and sensor management software solutions for the airborne, land, and maritime environments. Founded in 2002, CarteNav offers operationally proven technology that integrates, manages, and displays relevant data that dramatically improves the performance of both sensor operators and tactical decision makers. The company has established a reputation for providing sought-after and high-value solutions that can be deployed on a wide variety of platforms for multiple mission types for government, military, and commercial customers.