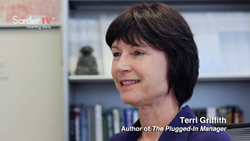 "This Sarder TV interview with Terri Griffith should be required viewing for anyone in management," said Russell Sarder, CEO of NetCom Learning and creator of Sarder TV.
New York, New York (PRWEB) October 15, 2015
Dr. Terri Griffith, author, professor at Santa Clara University, recently met with Jennifer Crumpton, Sarder TV correspondent, to talk about her award-winning book, The Plugged-In Manager: Get in Tune with Your People, Technology, and Organization to Thrive, and her work in the fields of management and technology. Terri Griffith has combined a background in management with a love and expertise in technology to into career success. In the Sarder TV interview, Griffith discusses how straddling two different disciplines has been difficult at times in her life until she realized that these two skill sets could form the basis of a career. She provides an overview of how she works with leaders to help them use technology to create great business solutions, and manage their organizations effectively.
"This Sarder TV interview with Terri Griffith should be required viewing for anyone in management," said Russell Sarder, CEO of NetCom Learning and creator of Sarder TV.
"Being able to successfully use technological resources within your organization is a critical skill for leaders today," said Sarder.
Terri Griffith credits her innate curiosity for one of the main reasons for her success in the corporate and academic world. This interest led her to want to know how things work and how they can be used to make processes better. The modern business world is based on the use and creation of technology. Professor Griffith recognizes this and has been able to use her knowledge of management and cutting edge technological advances to come up with the methodology that organizational leaders can use to achieve personal and business success. The Sarder TV interview provides an opportunity for Professor Griffith to go through all the major steps that she created for her book, The Plugged-in Manager, while offering examples of real life leaders who have been able to use technology to accomplish their goals. Griffith demonstrates how the best leaders can blend top technology with the right people and the right management plan that stimulates creativity and productivity within the organization. Terri Griffith holds a BA from UC Berkeley, and an MS and PhD from Carnegie Mellon University. She is currently the Department Chair of the Management Department at Santa Clara University.
Sarder TV offers stimulating, educational and candid interviews so that new entrepreneurs and aspiring business people can learn from them. The database is part of the international Learning Movement created by Russell Sarder to help spread knowledge and inspire a passion for lifelong learning. Operating on the premise that motivated individuals can learn from the experience, the success and the mistakes of others, Sarder TV provides a unique opportunity to see and hear influential personalities talk about the subjects that matter to them. Some of the past interviewees have included Ira Neimark, former CEO of Bergdorf Goodman, Susan Davis, CEO of BRAC USA, and Dan Hoffman, President and CEO of M5
Don't miss this educational and thoroughly useful interview with Terri Griffith at Sarder TV by clicking here.
Sarder TV seeking additional leaders for interviews
Sarder TV is also seeking leaders to interview and is targeting leaders from Fortune 500 companies, and exceptional public figures like Bill Clinton, Oprah Winfrey, Jim Collins, Bill Gates, Warren Buffet and many more. According to the National Venture Capital Association, more than 30 percent to $600 million this year has been invested in Web-based education. For investors seeking an opportunity to participate in a multimillion dollar idea, Sarder TV presents an excellent investment and is actively seeking investors. Several investors have already expressed an interest in this innovative idea. Investors interested in becoming a part of Sarder TV are invited to get in touch as well, contact us at russellsarder(at)netcomlearning(dot)com.
Sarder TV is a learning channel that contains a series of exclusive educational interview videos from top leaders in their industries, as well as motivational videos encouraging our public to succeed in their personal and professional lives, and many more. Russell Sarder, CEO of Sarder TV, has interviewed a series of leaders, who have shared their experiences and how they were able to achieve their success. Some of the names that Sarder has interviewed are: Ira Neimark, former CEO of Bergdorf Goodman; Russ Edelman, co-author of Nice Guys Can Get the Corner Office, Dan Hoffman, and David Hershfield, SVP Online Technology at RedCats.