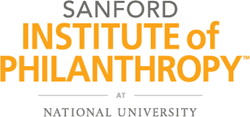 San Diego, Calif. (PRWEB) October 15, 2015
Lena T. Rodriguez, Ph.D., an award-winning leader in the nonprofit and higher education sectors and expert in entrepreneurship, has been named Endowed Director of the Sanford Institute of Philanthropy at National University where she will oversee the advancement of innovative programs designed to help nonprofits increase their fundraising potential. Dr. Rodriguez has a proven track record in advancing organizations and causes, having served as chief marketing and development officer for a program of the Kauffman Foundation, the world's leading private foundation dedicated to educational achievement and entrepreneurial success.
Dr. Rodriguez has served in a variety of senior leadership roles in institutions of higher education and as a consultant with entrepreneurs representing $300 million net revenue. In her new position, Dr. Rodriguez oversees the direction of the Institute, which was established in 2014 at National University - the 2nd largest private nonprofit university in California - through a generous gift by philanthropist and entrepreneur T. Denny Sanford. The Institute supports nonprofit and cause organizations through educational and training programs with a fundraising and cause sales focus. In addition to her role with the Institute, Dr. Rodriguez will also take on the role of interim Dean of the School of Business and Management at National University.
"We are very pleased to welcome Dr. Rodriguez to National University and the Sanford Institute of Philanthropy," said Dr. Michael R. Cunningham, President of National University. "She is a respected leader who is dedicated to improving our society through education and entrepreneurism. Her extensive background in both the private and nonprofit sectors demonstrates her ability to blend the best of both worlds, reflecting the values and mission of both the Sanford Institute of Philanthropy and National University."
Dr. Rodriguez oversaw program communications, marketing, government relations and public relations strategies for the Kauffman Foundation's $14.5 million Urban Entrepreneur Partnership Inc. (UEP) program, which supports entrepreneurs in urban and ethnically diverse communities around the country. Her role involved collaborating with prospective clients, donors and community. She also led the program's branding campaign, which earned two platinum and two gold awards in the national MarCom Association competition - standing out among more than 6,000 entries including media conglomerates and Fortune 500 companies. She was also recently named a National Honoree for Leadership in Entrepreneurship and Education by the National Leadership and Diversity Council.
Her background in the education sector includes serving as executive director of special projects and communications for the president of San Diego State University. As a professor in the College of Business at SDSU, she taught business classes and M.B.A. entrepreneurship courses in San Diego and Taiwan, Taipei. She also recently served as Program Dean for the University of Phoenix's School of Business, which has an annual enrollment of 78,000 students. Widely respected as a consultant in the private and nonprofit sectors, Dr. Rodriguez co-hosted a national issues talk show on a PBS public television affiliate, and speaks on topics of entrepreneurship within the public and private sectors, business management, business development and marketing.
Dr. Rodriguez is a university accreditation officer for the Western Association of Senior Colleges and Universities (WASC), and a member of Rotary International. She belongs to a number of national professional organizations and serves on regional and international boards. She earned her bachelor's degree in management and an M.P.A. in human resource management from Arizona State University and her Ph.D. in Business with an emphasis on organizational behavior, entrepreneurship and international management from the University of Nebraska, College of Business Administration. She has authored numerous articles on entrepreneurship and written chapters for human resource management and public administration textbooks.
About the Sanford Institute of Philanthropy at National University
The Sanford Institute of Philanthropy is dedicated to increasing the positive impact of nonprofits and cause organizations through specialized training and educational programs. The Institute offers a unique Cause Sales approach to fundraising, based on proven sales and business principles as applied to collaborative donor relationship building. This approach is integrated throughout the Institute's offerings, which offers seminars, a certificate and a master's degree program in Cause Leadership with curriculum developed by the University's School of Business and Management and Division of Extended Learning. The Institute was established at National University in 2014 through a generous gift by renowned philanthropist and businessman T. Denny Sanford. http://sanfordeducationcenter.org/instituteofphilanthropy.cfm
About National University
Founded in 1971, National University is the second-largest private, nonprofit institution of higher education in California. With 30,000 students and more than 140,000 alumni, National University is the flagship institution of the National University System. National University is dedicated to making lifelong learning opportunities accessible, challenging, and relevant to a diverse population of students. Five schools and one college – the College of Letters and Sciences; the School of Business and Management; the School of Education; the School of Engineering and Computing; the School of Health and Human Services; and the School of Professional Studies – offer more than 100 graduate and undergraduate degrees and 23 teacher credentials. Programs are offered at locations throughout California and across the nation, and are also available online. National University is headquartered in La Jolla, California. http://www.nu.edu/