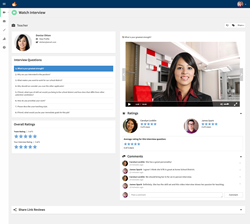 "It's so exciting to network with human resources professionals and to discuss new technology that helps our customers become more successful with their hiring efforts." - Josh Tolan, CEO of Spark Hire
Chicago, Illinois (PRWEB) October 15, 2015
Spark Hire (http://www.sparkhire.com), the leading provider of intuitive video interviewing solutions, will be exhibiting at the HR Technology Conference & Exposition in Las Vegas, October 18-20, 2015.
"This is one of our favorite conferences to attend each year," says Josh Tolan, CEO of Spark Hire. "The technology showcased at the conference is always groundbreaking. It's so exciting to network with human resources professionals and to discuss new technology that helps our customers become more successful with their hiring efforts."
The Spark Hire team will be showcasing the platform's video interviewing capabilities, which empowers human resources departments worldwide with features including:
One-Way Video Interview: Become more efficient and effective in your hiring process by creating a series of questions for your candidates to answer on video. Candidates will use a webcam or mobile device to answer the questions on their own time. Hiring teams can then review and share the interviews with colleagues to come to better hiring decisions.
Live Video Interview: Connect with candidates in real-time, on video. The professionally branded interviews are recorded, and with Spark Hire's cloud-based storage solutions, you can refer back to the video interviews at any time.
Collaboration Tools: Collaboration is key to making amazing hires. With commenting, rating, sharing, and more purpose-built collaboration tools, hiring teams can share their thoughts on candidates and come to a conclusive decision on which candidates are best for open positions.
In addition to these awesome features, Spark Hire is excited to share information on its 15+ new integrations with leading applicant tracking systems.
Meet the Spark Hire team at Booth 1341 to get an in-depth look at how video interviewing can transform your hiring process in 2015 and beyond.
About Spark Hire:
Spark Hire is the fastest growing video interviewing platform in the world. Offering a completely branded one-way and recorded live video interview platform, Spark Hire helps 2,000+ organizations eliminate phone screens, gain more insight into candidates, and make amazing hires. No contracts, no setup fees. Unlimited video interviews. For more information, visit sparkhire.com.
About HR Technology Conference & Exposition:
A world-renowned event for the HR industry, the HR Technology Conference & Exposition is the world's leading conference and exposition on technology for human resources executives and professionals looking for technology solutions to help them with their biggest hiring challenges. To learn more, visit hrtechconference.com.