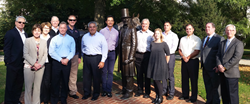 What happened has exceeded my expectations and I am so honored to be able to graduate from this fellowship such a talented group that is doing such important work for their districts. Without exception, every leader has been incredible.
Washington DC (PRWEB) October 14, 2015
On October 14th ten district leaders from across the country accepted awards signifying their successful completion of the first national fellowship dedicated to personalized learning. The Lexington Education Leadership Award Fellowship was designed to support districts in their efforts to personalize learning. Each of the ten districts made significant strides to developing and codifying their vision and laying out their strategy for moving forward.
The LELA Final Showcase and Celebration included a tour of DC Public School's Randle Highlands Elementary School, a meeting at the US Education Department and a workshop held at Lincoln's Cottage. Each leader shared his or her vision for personalized learning and received feedback from the group and thought leaders as part of an ongoing effort to focus on innovation, iteration, collaboration and best practice sharing.
Selected from over 50 applicants, the district leaders represented a cross-section of the country. Each leader was selected based on the strength of their vision, their passion for improving student outcomes through personalized learning and their capacity to lead sustainable change at their districts. Leaders included: Theron Schutte from Bettendorf Community School District, Dr. Victor P. Hayek from Bridgewater-Raritan Regional, Rich Merlo from Corcoran Unified School District, Dr. Ross Kasun from Freehold Township, Christine Lay from Gettysburg Area, Nancy Allen-Mastro from Independent School District 197, Rick Robins from Juab School District, Gabe Soumakian from Oxnard Union High School District, John F. Albrecht from Wayne-Westland Community Schools, and Blane McCann from Westside Community Schools.
"When we started this journey six months ago I knew I would have the chance to engage with some great leaders," said Don Soifer, Executive Director of the Lexington Institute. "What happened has exceeded my expectations and I am so honored to be able to graduate from this fellowship such a talented group that is doing such important work for their districts. Without exception, every leader has been incredible to work with."
The fellowship program was intensive and each leader dedicated significant time to developing, codifying and communicating their vision. Over the course of the last six months the first class of LELA fellows attended the Education Elements Personalized Learning Summit and received support and guidance from the Ed Elements team through onsite meetings with their district teams, bi-weekly support and coaching calls, and cross-district workshops. The Lexington Institute selected Education Elements because of its extensive experience in supporting the work of districts across the country and its track record of helping districts improve student outcomes (see here). Fellows also received mentorship and support from personalized learning pioneers across the country including Cindy Ambrose (CAO of Loundon County Schools), James Bailey (Superintendent of Uinta School District One), Ken Eastwood (Superintendent of Enlarged City School District of Middletown) and Amy Creeden (Principal, Enlarged City School District of Middletown).
"Every time I had the opportunity to work with this group of fellows I was impressed," said Anthony Kim, Founder and CEO of Education Elements. "This group was remarkable in the questions they asked, visions they created, and plans they have started to put in place. It was a pleasure to work with each of them."
"The LELA Fellowship experience has been a great learning experience for me as a leader on multiple levels," said Rich Merlo, Superintendent of Corcoran Unified School District, CA. "The effects are already evident in its influence on our staff leadership team and how we will be able to provide as an educational institution the type of teaching and learning for students that is relevant and effective."
The first cohort of LELA fellows will become part of an alumni network and have access to additional professional development opportunities. The second cohort of fellows will be selected in December from a group of 27 finalists attending the iNACOL Online and Blended Learning Symposium in Orlando this November.
About Lexington Institute: The Lexington Institute is a nonprofit, nonpartisan public policy think headquartered in Arlington, Virginia. Founded in 1998, its major areas of focus include education, national security, energy and logistics. Please visit lexingtoninstitute.org/category/education/ to learn more.
About Education Elements: Education Elements partners with districts to design and implement personalized learning through their consulting services and Highlight, their personalized learning platform. Ed Elements supports 4 Race to the Top winners, 25% of the League of Innovative Schools and pioneering districts across the country. Their work helps districts to articulate their vision, build their capacity, design and implement new instructional models and, most importantly, impact student outcomes. Last year schools that worked with Education Elements saw growth in reading and math of up to 139% compared to national norms. Please visit http://www.edelements.com to learn more.
###