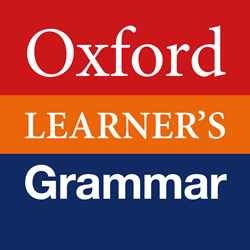 (PRWEB UK) 15 October 2015
Paragon Software Group, a leading multi-platform software developer for mobile devices and desktop computers, announces the release of the Oxford Learner's Quick Reference Grammar iOS app, developed by Oxford University Press, the world's authority on the English language.
The app provides students with quick, clear and easy-to-understand explanations of the grammar needed to pass exams and communicate well in English. It covers the grammar needed at intermediate and advanced levels (B2 – C2).
The app is an ideal, on-the-go tool for reference and revision of the grammar for exams (including FCE, CAE, BEC and CPE). Students can use those spare few minutes on the bus to do a little 'on-the-go' revision of their must-know grammar topics.
The key features of the Oxford Learner's Quick Reference Grammar app

181 grammar topics – complementing the grammar content in coursebooks and grammar books.
Over 2000 examples of how to use the grammar correctly and how to avoid common mistakes.
Cross-references between topics - to help build a complete picture of how the topics work together.
Helps students sound more natural – grammar sometimes affects pronunciation. This app has over 150 useful tips and the pronunciation of selected grammar points to help students sound more natural.
Students can…
o browse the contents by grammatical theme or search the A-Z index.
o create and edit their own lists of favourite topics.
o view 'History' to see their recent searches.
Availability
https://itunes.apple.com/gb/app/oxford-learners-quick-reference/id981796558?mt=8
The free download provides 8 sample entries from the 181 entries in the app. An in-app purchase is required to activate all entries.
Requirements
Requires iOS 7.0 or later.
About Oxford University Press
Oxford University Press is a department of the University of Oxford. It furthers the University's objective of excellence in research, scholarship, and education by publishing worldwide. OUP is the world's largest university press, with a wide global reach. It currently publishes more than 6,000 new publications a year, has a presence in around fifty countries, and employs more than 5,000 people worldwide. It has become familiar to millions through a diverse publishing programme that includes scholarly works in all academic disciplines, bibles, music, school and college textbooks, children's books, materials for teaching English as a foreign language, business books, dictionaries and reference books, and academic journals.
To find out more about Oxford University Press please visit http://www.oup.com. To find out about OUP's English Language Teaching publications please visit http://www.oup.com/elt.
For more information or queries about the Oxford Collocations Dictionary for students of English iOS app, please contact elt.enquiry@oup.com.
About Paragon Software Group
Paragon Software Group is an innovative software developer focused on two dynamic growth markets. The company's comprehensive product line for the data storage market addresses the needs of data security, storage and management for PCs, servers and networks. A second portfolio of products focuses on mobile productivity applications for handheld devices. Founded in 1994, Paragon Software Group has offices in the USA, Germany, Japan, Poland, Russia and China delivering its solutions to consumers, small business and enterprise clients worldwide through a network of Value Added Resellers, distributors and OEMs as well as online through the company website. To learn more about the company's mobility division, please visit http://www.slovoed.com