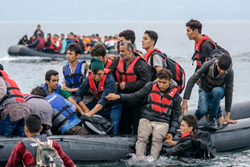 "While the refugee crisis poses an immense challenge for Europe, it is imperative that our policies are not driven by fear or ignorance," says Simon O'Connell
Lesbos, Greece (PRWEB) October 15, 2015
Young refugees will continue to risk their lives to come to Europe until they are offered genuine alternatives for their future, says a new survey by the global organization Mercy Corps. The report shines a light on the importance of establishing policies that help refugees build happier, more productive lives and minimize the risk of isolation and conflict.
"While the refugee crisis poses an immense challenge for Europe, it is imperative that our policies are not driven by fear or ignorance, which can lead communities and politicians to focus on keeping refugees out or marginalizing them," says Simon O'Connell, Executive Director, Mercy Corps Europe.
From 21 focus-group discussions with more than 100 refugees, Mercy Corps found that young people seeking safety in Europe are hopeful, positive and eager to contribute to their future host countries – and equally determined that they will not stay in war-torn countries or impoverished refugee camps.
Based on deep experience working with youth in Syria and around the world, Mercy Corps makes a series of recommendations, including:

Local and national leaders should adopt policies to enable successful integration of young people into host communities;
Governments in the Middle East, supported by institutional donors, should improve conditions and the dignity of refugees, particularly by enabling them to work;
European countries should facilitate a range of safe and legal routes for refugees;
World leaders from Europe, North America, Asia, Latin America and the Pacific should negotiate a comprehensive plan of action for increasing the number of refuges they collectively resettle from the Middle East.
"With recent military developments in Syria likely to precipitate further movement of people, we must do more to help the millions of people who have been displaced," says O'Connell.
Read or download the Mercy Corps report "Behind Them, a Homeland in Ruins."