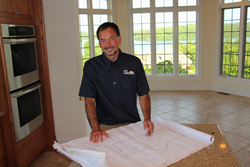 Home Building Tips to Save Money and Streamline the Process
Knoxville, Tennessee (PRWEB) October 16, 2015
Real Estate Scorecard had the opportunity to sit down and chat with Denny Smith of Greystone Construction, one of the finest custom home builders in Knoxville TN. Smith met Real Estate Scorecard at Rarity Bay, an award winning golf community on Tellico Lake where he's been busy building dozens of custom homes for those relocating to Tennessee. The mission was to find out the latest home building trends and cost saving tips to streamline the process. Mr. Smith shared that and more.
Smith began building homes in the Knoxville TN area back in 2003. He's a soft spoken personable UT grad who enjoys the outdoors when he's not behind a bulldozer. He prides himself in building unique one-of-a-kind homes that blend seamlessly into the homesite.
After the 2007-2008 economic debacle, Smith feels consumer confidence has returned and people are moving forward with their home building plans. Those that can afford McMansions are building them. In fact, Smith is building or has built a number of 10,000-20,000 square foot homes on Tellico Lake. Homes over 5,000 square feet are commanding dramatic rooflines and quality finishes. Brick is back. Stucco is out. Smith believes buyers are recognizing how the use of natural elements on the exterior add dimension and curb appeal. Synthetic materials are also out when it comes to roofing, doors and siding.
The demand for one level homes continues to rise with homes averaging around 2,500 square feet. Buyers are choosing high quality energy efficient products when they can afford them. At the bottom of the real estate market, it was common for buyers to chose remodeling over a building a new home. Smith is confident the trend has changed. People want what they want and are willing to pay for it. He's seeing:
Elevators in the home
Reverse tray ceilings
LED lighting
Induction cooktops
Geo-thermal heating/cooling systems
Spray foam insulation
Stain-free paver walkways/driveways
Real Estate Scorecard asked Smith to share ideas about ways to save money and minimize the stress of building home when relocating to Tennessee. Here's his candid feedback:
CUSTOM HOME BUILDING TIPS
Involve the builder in the design process - Creativity is fun until it's time to break out the checkbook. What seemed like a fabulous idea could cost one dearly and there may have been a better and more cost effective way of achieving the end result by designing it differently. Quality home builders in Knoxville TN will know what's practical and cost efficient. Inviting a home builder into the design process prevents misunderstandings and disappointments at the end.
Architects are not engineers - An architect could be described as an 'artist' where he or she's creative skills transform into a home design that's in compliance with local building codes and regulations. It takes years to obtain an architectural certification but it is far more difficult to become certified engineer. An engineer's structural and technical knowledge goes deeper and may prevent a roof from collapsing or home from rolling off the mountain. Having an engineer review the home plans before producing the final blueprints is essential.
Residential home designers a.k.a. 'street smart architects without major certifications' - Consider a home designer in the process. Home designers see beyond the shell structure and site layout. Most home designers go to the same school as architects but they tend to be more creative by maximizing living spaces, natural light, and energy efficiency. Often times, they're better communicators.
Get a thumbs up from the builder before choosing a lot - Foundational costs can reach from one end of the pendulum to the other. Don't be deceived by the lot price tag. One lot might require $100,000 in site prep to build a supporting retaining wall or deep pilings while another nearby lot cost $20,000 in site prep. Quality home builders in Knoxville TN will have a good idea of site prep costs. Visit lot options with the home builder before buying it.
Get out of the way - Micromanaging causes chaos and confusion. One of the hardest things to do when building a home is to stay out of the way. Talking with subcontractors and trades during work hours is counter productive. If folks must 'check' on the house, do it when the trades have left, at the end of the day.
Learn square footage variables - Folks might be surprised to know, square footage is calculated differently depending on who one is talking to. Appraisers count wall to wall, builders count slab measurements and realtors count air conditioned space. If one is paying per square foot for anything, make sure to know how they're calculating square feet.
Turn off HGTV - Creative and one-of-a-kind ideas by celebrity interior designers will cost folks.
Don't over improve - Folks may attest that this will be the last home one would ever build and they want what they want. Then life throws a curve ball and one is forced to sell a home. A $150,000 kitchen may be much more expensive kitchen than all the homes in the neighborhood. It's unlikely a buyer will pay for it. Over improving a home is one of the quickest ways to lose money.
Budget busters - Typically speaking, structural budgets come in on schedule unless changes are made. Where things do go haywire, it's generally inside the home. The 'must have' gold plated sink faucets and Murano glass chandelier one saw on HGTV can cause a checkbook meltdown. The more one makes changes, the more things will likely spin out of control. Budget for unexpected changes.
Most custom builds are on a 'cost plus' basis meaning the cost of the item plus a set percentage for overhead and profit. Where quality home builders in Knoxville TN can save folks big is by being honest. If something is eliminated, how many builders would return the item to the manufacturer or store for credit rolling the money back? This is standard protocol for Denny Smith of Greystone Construction. Smith believes "honesty is what somebody does when no one is looking".
Bigger isn't always better - National home builders tend to dominate the marketplace. The suited salesman may say "yes we'll include that" just to get a contract written but how often do folks see them disappear when the dirt is cleared. Choosing a 'hands on builder' means folks are likely to see him every day. In fact, most will want to see folks once a week for a progress update, when possible. Choosing a 'hands on builder' like Denny Smith of Greystone Construction is smart because he takes on the project as if the home was his own. That's probably why most of the homes he builds are from clients he obtained by word of mouth.
Real Estate Scorecard wants to suggest adding a realtor on the team when building a home. A savvy realtor could become the 'fortune teller' because he or she will have a pretty good idea of what a home will be worth, if one had to sell. A trusted realtor will also help families find a short term rental while the home is under construction.
Families considering relocating to Tennessee on or near Tellico Lake, should connect with Karen Millikan of On the Lake Realty, Real Estate Scorecard's trusted colleague and a smart person to have on the speed dial list. Contact Karen Millikan directly at 423-519-3258.
About Real Estate Scorecard:
Real Estate Scorecard writes unbiased real estate reviews providing in-depth information about popular gated communities in Florida, Georgia, the Carolinas, Tennessee and Central America, all in an effort to help people discover where to retire in the South.
Website: http://realestatescorecard.com