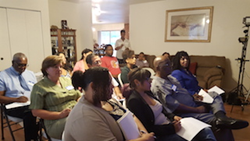 (PRWEB) October 15, 2015
During Tuesday's Democratic Debates, Alkyne Media Group hosted four focus groups of minority voters - Blacks, Asian, Hispanics - to obtain their views of the Democratic Performance and whether the issues they care more about were discussed. Focus groups were held in Miami, Las Vegas, Charlotte, and DC.
Most participants thought Hillary Clinton won the debate and that she would be the strongest general election candidate. She was also slightly favored over Sanders on the question of 'Which candidate best shares my values"? However, most focus group participants thought Bernard Sanders did the best at connecting and would do the best job at addressing racial and income inequality. Martin O'Malley was thought to have had a strong debate, but did little to change the mind of the focus group participants on who they would support.
Experts agree on the empirical data that affirms minority voter turnout will be pivotal in deciding which party controls the White House, Congress, governors, state and local legislatures. This is critical to determining redistricting in 2021 following the 2020 census. Campaigns rarely conduct minority focus groups and polling early enough in the election cycle to ensure their campaign platforms include the concerns of minority voters and their messaging is connecting with this important constituency.
The baseline data AMG is gathering is being synthesized with other data and analytic tools Madison Avenue successfully uses to develop marketing campaigns targeting minority consumers to give us a thorough and actionable understanding of how to impact the push/pull factors that will influence minority voter turnout in the 2016 elections. These new focus groups follow on the heels of the national poll and focus groups of minority voters we conducted in June to get a baseline assessment of minority voter sentiments—particularly their views of the President and Congress, and the issues they most want addressed by their elected officials.
When: Focus groups took place after the Democratic presidential debate on Tuesday, October 13, 2015.
Where: AMG hosted focus group in Washington, DC and conduct additional focus groups simultaneously in Las Vegas, NV, Miami, FL, and Charlotte, NC.
About us: AMG is a marketing, advertising and management consulting firm formed in 2013 to address complex issues and opportunities within a variety of business sectors. http://www.alkynemediagroup.com