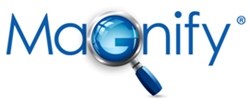 We have taken the feedback from our customers and added powerful workflow functionality. Research professionals now have a tool in the cloud that has only been available in expensive and poorly supported desktop products – until now," said Larry Martin
Little Rock, AR (PRWEB) October 19, 2015
Gadberry Group released its most comprehensive update to its cloud-based location intelligence software product, Magnify, during the ICSC Research Connections Conference in Seattle. Magnify 4.0 delivers a significant increase in functionality and data sources for retail research, commercial real estate and economic development professionals. Analyzing current and potential new locations can now be performed quickly and without heavy maintenance and internal IT support burdens.
Traditional desktop location intelligence software products leave gaps for users to get their work done, particularly in the areas of needing to geocode and process large volumes of data while simultaneously performing other tasks. Magnify now fills these gaps through an advanced workflow interface that enables users to batch geocode thousands of points of data while also running study area analyses on multiple locations. Customer support is also an area that has been found lacking in other solutions. Magnify has an average customer retention rate of greater than 90 percent since first being launched more than four years ago. Customer feedback consistently cites prompt, professional and accurate support as a reason for those results.
Magnify 4.0 includes several new data sources to ensure users have access to the most precise and accurate data available for making location decisions. The new data sources available in Magnify include Pitney Bowes Business Points, Consumer and Business expenditure data and Gadberry's own MicroBuild demographic, ethnic and segmentation data. Magnify has always delivered study area boundaries including rings, drivetimes and the ability to create custom boundaries. Now with Magnify 4.0, users can create banded study area boundaries as well as boundaries based on market-driven criteria such as number of households, total and daytime population counts and income thresholds through Magnify's capture method.
"Our customers tell us where we need to improve our products to solve their site selection and analysis challenges," says Larry Martin, Gadberry Group President. "With Magnify 4.0, we have taken the feedback from our customers and added powerful workflow functionality, an interface that is even easier to use and many new data sources. And research professionals now have a tool in the cloud that has only been available in expensive and poorly supported desktop products – until now."
Magnify 4.0 is being initially launched in the United States, with a version for Canada coming soon.
About Gadberry Group
Gadberry Group provides location-based services and information data products for clients who demand the most current, accurate, and precise geo-demographic data for their location analysis and research. Our patented MicroBuild data products are built using multiple sources of consumer data at the name and address level. Headquartered in Little Rock, Arkansas, Gadberry has industry-recognized expertise for combining sophisticated data development, software development and professional services to help clients solve business problems related to site and store selection, marketing campaigns based on specific geographic and demographic targets and geographic-based analytics. MicroBuild is protected under U.S. Patents No. 8,341,010 and 8,428,999. For more information please visit http://www.magnifymaps.com or http://www.gadberry.net.