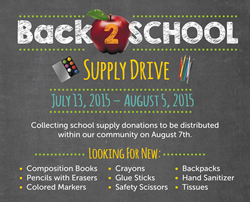 We are always looking out for our members
Melbourne, FL (PRWEB) October 15, 2015
Space Coast Credit Union (SCCU) welcomed the 2015-16 school year with a helping hand, distributing over 150 school supplies to Palm Bay schools in its Back-2-School Supply Drive campaign this past summer.
The school supplies – which included pencils, pens, crayons, paper, notebooks, binders, and more – were donated entirely by members of the credit union over a four week span before being distributed to Turner Elementary School and Southwest Middle School early last August.
In addition to the supplies, SCCU also donated a total of $500 to the two schools.
"This was a great opportunity for SCCU and the community to come together and donate to two local schools," said Shane Hoyle, Director of Retail Services. "We just remodeled our Palm Bay West branch located on the corner of Minton and Malabar Road and this supply drive was a great way to invite members and the community into the branch, while also offering them special incentives."
Donations were collected at SCCU's Palm Bay West and Bayside branches in Brevard County, where members were automatically entered into a drawing to win an Apple iPad for donating.
As a thank you for participating, SCCU also offered donating members a $100 Visa Gift Card for refinancing their auto loan with the credit union. In all, SCCU refinanced 12 auto loans through the campaign, helping members save several hundred dollars over the term of their loan in some cases.
"We are always looking out for our members by upgrading our facilities to offer greater convenience and deliver competitive products to help save them money," Hoyle said. "When we can give back to the community it is another way our members watch out for one another."
---
Space Coast Credit Union was chartered in 1951 and is headquartered in Melbourne, Florida. The Credit Union serves over 300,000 members with assets of over $3.4 billion through a network of 58 branches and over 100 ATMs located throughout Florida and through its web site, SCCU.com. Space Coast Credit Union is open for membership to anyone who lives or works in the fourteen Florida counties it serves. Locations can be found at SCCU.com/locations.
###