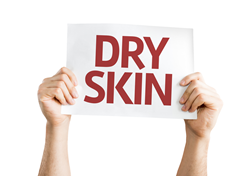 Dry air leads to a variety of health and comfort issues including itchy eyes, chapped lips, bloody noses and among the most common – dry skin.
Madison, WI (PRWEB) October 20, 2015
For most of the U.S., the impending cold winter weather is synonymous with decreased comfort and health. We even call many common winter viruses "a cold," and expect to deal with chapped lips, chilly hands and even dry skin. However, frigid temperatures get more blame for winter discomfort than they deserve.
While cooler air certainly plays a part in how people feel, many health and comfort issues stem more from dry air – or air with a low relative humidity. Aprilaire has been providing whole-home humidity control solutions for years, and understands the many ways that dry air in the home impacts health.
Find Relief from Dry Skin This Winter
When air is too dry, it pulls moisture out of everything around it, including people. This leads to a variety of health and comfort issues including itchy eyes, chapped lips, bloody noses and among the most common – dry skin.
Follow some of these best practices to keep your skin healthy this winter:
1. Moisturize the right way: Practicing prevention always beats searching for a cure. This winter, use a good oil-based moisturizer as soon as cold temperatures arrive but before you have dry skin. For best results, use a product with an SPF of 30 and apply it to damp skin. The simplest solution is to lather it on after the morning shower.
2. Improve your home's air: Because dry air plays a major role in winter skin damage, a whole-home humidifier can truly fight dry skin at its source. With Aprilaire automatic control, improving the air inside your home is a set-it-and-forget-it solution to healthier skin.
3. Avoid hot baths and showers: Not much beats a long, hot shower on a cold winter day, but if you have dry skin you're doing more harm than good. The steam from a hot shower removes your skin's natural oils that help keep in moisture. Take a short, warm shower and pat yourself dry.
Protect Your Family from Dry, Winter Air
Aprilaire offers the most effective way to control indoor relative humidity through the use of a whole-home humidifier. Attached to a home's HVAC system, our humidifiers can automatically control the moisture level in the air throughout the entire house.
Unlike portable units that must be regularly cleaned and filled, Aprilaire's humidifiers are also nearly maintenance free and require only an annual change of the water panel or steam canister. With proper humidity control in your home you can keep your family safe from the many health and comfort issues associated with winter, dry air.
About Us:
We have been a brand leader in IAQ for more than 60 years, delivering a wide range of whole-home systems that improve comfort, health and energy efficiency. Our brand products are sold through and installed by HVAC contractors across the United States and Canada. Visit Aprilaire.com to learn more about whole-house humidifiers and total comfort solutions to purity, humidity, freshness and temperature. Find us on Facebook at facebook.com/Aprilaire.