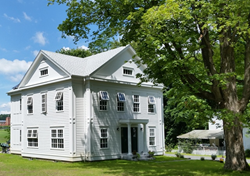 Norwalk, CT (PRWEB) October 16, 2015
The Taft School residence, located in Watertown, CT, was one of five projects across the nation to be named a 2015 Housing Innovation Awards Grand Winner. This project's efficiency achievements were honored at the awards ceremony hosted during the EEBA Excellence in Building Science Conference & Expo in Denver, CO on October 6, 2015.
The Taft School's new faculty residence was designed by Trillium Architects of Ridgefield, and constructed by BPC Green Builders of Wilton, with certification support provided by Steven Winter Associates of Norwalk. The home is Connecticut's first building to achieve the USGBC LEED® BD+C for Homes™ Platinum certification using the new and more stringent version 4 rating criteria. It is also one of the first homes in the state to be certified as a Passive House by PHIUS (Passive House Institute US). Additionally, it is certified as a Zero Energy Ready Home by the DOE, and as an ENERGY STAR® home by the EPA, also meeting their criteria for WaterSense™ and Indoor airPLUS™ labeling. And, certification is pending for three petals in the Living Building Challenge.
The residence achieved a Home Energy Rating System (HERS) Index of 33, prior to solar photovoltaic (PV). However, the final HERS Index is -14 after the 13kW roof-mounted PV system is accounted for. The rating was achieved by using double stud cellulose-filled walls plus insulated ZIP™ sheathing and triple-pane windows. Partially ducted air-source heat pumps provide efficient heating and cooling, while a heat-pump water heater with occupancy sensors in each of the bathrooms delivers immediate hot water.
In addition to the Housing Innovation Award, the Taft School residence also recently earned the Residential Award of Honor from the Connecticut Green Building Council (CTGBC), as well as a third place finish in the Connecticut Zero Energy Challenge.
Since 2008, the U.S. DOE Builders Challenge program has recognized hundreds of leading builders for their achievements in energy efficiency, resulting in millions of dollars in energy savings. The DOE Zero Energy Ready Home — an ambitious successor to the Builders Challenge program — represents a whole new level of home performance, with rigorous requirements that ensure outstanding levels of energy savings, comfort, health, and durability on the path to zero energy. A Zero Energy Ready Home is a high-performance home that is so energy efficient that a renewable energy system can offset all or most of its annual energy consumption.
About Steven Winter Associates
Steven Winter Associates, Inc. (SWA) provides research, consulting, and advisory services to improve commercial, residential, and multifamily built environments for private and public sector clients. The firm specializes in energy, sustainability, and accessibility consulting as well as certification, research & development, and compliance services. For more information, visit http://www.swinter.com.
About BPC Green Builders
BPC provides green building project management for new and existing homes based upon building science and other sustainability criteria. All BPC projects are third party certified; certifications include Energy Star, LEED, and Passive House. For more information, visit http://www.bpcgreenbuilders.com.
About Trillium Architects
Trillium Architects has been focused on designing sustainable homes for over 10 years. Highly skilled in both sophisticated design and cutting edge construction methods, the firm works together with its clients to create peaceful, energized, healthful environments that exceed expectations and reduce energy dependence. For more information, visit http://www.trilliumarchitects.com.