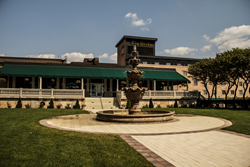 As a Latina business owner I think it's important to support the talents of others and show the world Latina women can make a difference
Oak Brook, IL (PRWEB) October 19, 2015
The Drake Hotel Oak Brook is set to host the upcoming Miss Illinois Latina Pageant and all preliminary pageant events October 30th and November 1st.
Each year this event showcases the inner beauty of the Latina woman while promoting ideas of community service, education, and dedication to one's heritage.
Jim and Tely Nagle, owners of the hotel, were drawn to be a part of this event as it celebrates Tely's own cultural identification.
"As a Latina business owner I think it's important to support the talents of others and show the world Latina women can make a difference," said Tely Nagle. "I'm so excited to have the opportunity to help empower the next generation of strong, beautiful and talented Latina Women."
The preliminary event will be held on Friday, October 30th, with the rest of the competition and crowning following on Sunday, November 1st.
The first evening will feature personal interviews with the contestants and presentations of their heritage costumes.
Sunday night will showcase their talents under the swimwear, evening gown, and on stage interview categories.
Not only will the winner advance to the Miss U.S. Latina pageant, but she'll also be awarded with a scholarship to help further her education.
"We are excited our hotel will provide the setting for such a grand and elegant event," said Tely Nagle.
Since the early 1960's, The Drake has stood as an integral part of the Oak Brook community, serving as a hotel and event space for locals, professionals, and prestigious guests from around the world. In 2013 Jim and Tely Nagle took over the helm, restoring it to its former glory while incorporating modern touches of chic European elegance and drama. The 4 story, ten acre property is alive with stories and ready to enchant with 84 bedrooms and club-like amenities.
For interviews, additional information or to RSVP for the event, please visit http://www.thedrakeoakbrookhotel.com or contact Nicki(at)veteranpr(dot)com.
About Veteran PR:
Rooted in the belief that hard work coupled with honesty and integrity is the key to any success, Veteran PR strives to help companies build their brand awareness through strategic and effective Public Relations Campaigns and Social Media Marketing Efforts. Veteran PR launched in 2015 after military veteran, Staff Sergeant Jason Thomas, teamed up with his wife and seasoned PR professional, Nicki Thomas. Together their vision is to help small businesses, especially veteran owned businesses, build their brand awareness with a PR Company business owners can trust.