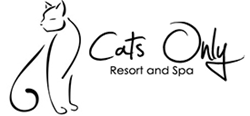 St Louis, MO (PRWEB) October 19, 2015
Cats Only, a locally owned and operated, cat exclusive resort and spa, provides cat owners peace of mind, complete serenity for their feline companions, and now a chance to give back to local feline shelters.
For every 3 night minimum stay in one of their feline-focused suites, Cats Only Resort and Spa is offering customers 1 night free at no additional charge. For customers that take advantage of this special promotion, $5 of their purchase goes back to a feline shelter of their choice. These donations help provide local shelters with food, medication, toys, and other necessities for cats who are still searching for their forever home.
With over three years of volunteer experience at animal shelters, Dana Strunk, the founder of Cats Only, has also fostered multiple cats in her home, four of which she adopted. She is currently fostering four additional cats at Cats Only from local shelters who were in cages for years and are now able to roam the facility freely.
Before starting Cats Only, Dana had always hoped to volunteer at a shelter but never had the time. After realizing how unhappy she was with her career in financial services, Dana left her job and began doing the volunteer work she had longed for. Being a volunteer in the animal shelters, Dana got a clear understanding of the needs of these facilities to properly care for the felines. From volunteer to business owner, Dana is now taking her passion to care for cats and using it to give back to local feline shelters.
Cats Only Resort and Spa offers cat grooming and boarding to cities in Madison and St Clair Counties in Illinois such as Shiloh, Belleville, Fairview Heights, Swansea, and Collinsville, as well as St Louis, MO. From full grooming services including a bath, blow-dry, and de-shed treatment, to nail trims or just a belly shave, Cats Only, caters specifically to the needs of felines.
Cats Only has various suite sizes to accommodate the needs of your feline companion, as well as a playroom where your feline companion can enjoy social or private time exercising and being as active as they like, something traditional boarding facilities don't offer. Additionally, because the facility only caters to cats, there are no loud dogs to disturb your feline counterpart and their play time during their stay.
As the holidays approach and you are making travel plans, you may wonder who will be able to care for your cat while you're away. To ensure that your cat is cared for AND to give back to local animal shelters, make sure to contact Cats Only resort and Spa. You can view all the services and accommodations provided by Cats Only by visiting http://www.catsonlystl.com
Prepared by:Web Design and Company