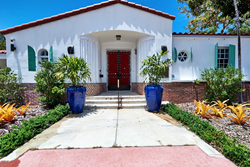 "The Women's Club is different from anything out there. Possibilities are endless." - Alison Colberg, Director of Special Events
Miami Beach, Florida (PRWEB) October 19, 2015
Mid November marks the start of high season in Miami. This year South Beach Group's newest addition, the historic Miami Beach Women's Club, heads into its very first winter season; the busiest time of the year in Miami. Recently the space was used for Modern Luxury's Charity & Social Datebook hosted by Miami Magazine; the Miami Beach mayoral debate, a press conference and luncheon for Proctor & Gamble's Orgullosa Breast Cancer Awareness and a fundraiser for Debbie Wassernan Schultz, the head of the Democratic National Committee.
The event space owned by real estate mogul and hotelier, Alan Lieberman and his son Nathan, was purchased in 2013. Renovations began to breathe new life into this beautiful property and were finally completed by June 2015. This allowed a few months to prepare for the increasing demand that comes with the high season in Miami Beach.
Alan Lieberman, who owns 15 hotel properties under South Beach Group, has been in South Beach since the 90's and has had a hand in the development and change in Miami Beach. "Every year it gets bigger. Events such as Art Basel, South Beach Food and Wine, and Winter Music Conference spread across the whole city for days at a time. I wanted to bring a historically rich, high value option to the city for branded events, corporate workshops and seminars, charity fundraisers and private parties. Our first winter season will be very busy," says Alan Lieberman.
Miami Beach Women's Club is a 1933 Mediterranean single level structure offers a blank canvas for anyone who wants the flexibility to create a truly unique and memorable event at an incredibly affordable price. The building now shines as a classic example of an earlier time on Miami Beach and features beautiful original elements such as the chandeliers, gorgeous oversized Mediterranean entry doors and vaulted beamed ceilings.
Alison Colberg, Director of Special Events adds, "I have been planning events in Miami for over a decade and there's certainly been an increase not only in the kind of events we see in Miami but the value expected. People want something unique. There's a rise in destination weddings, charity fundraisers, political debates, press conferences, fashion shows, production shoots, cocktail receptions, corporate events, seminars and workshops."
Miami Women's Club Brief History:
In the wake of the devastating "Great Miami Hurricane" of 1926, some of the most renowned and influential women of Miami Beach established the Miami Women's Club with the intent of helping those in need and fostering neighborly friendship and community. Initially, group members would gather in the home of novelist and founding President, Mrs. Clayton Sedgwick Cooper. Miami Beach real estate promoter, Carl G. Fisher appreciated the women's efforts to create a culturally rich atmosphere and in 1927 donated a site to build a clubhouse. By 1933 Miami Beach Women's Club as we know it today was built. In 1974 it was listed in the National Register of Historic Places.
For information on Miami Women's Club visit:
http://www.womensclubmiamibeach.com