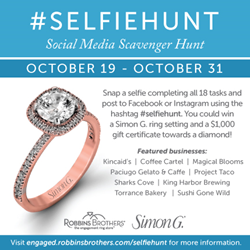 Whether it's an engagement party for customers or a 'girls night out' event, we enjoy partnering with businesses in the community to offer customers an engaging and memorable experience
Torrance, CA (PRWEB) October 16, 2015
While many look forward to celebrating the festive and often scary Halloween season, Robbins Brothers and bridal jewelry designer Simon G. plan to add some glamour to October with its first ever #SelfieHunt. The companies have teamed up with local businesses in the South Bay to launch a two-week social media scavenger promotion featuring the chance to win a diamond engagement ring!
Between October 19th and October 31st, those who live or work in the South Bay area including Torrance, Manhattan Beach, Hermosa Beach and Redondo Beach, are encouraged to visit Robbins Brothers in Torrance or Magical Blooms in Redondo Beach to register for the contest and pick up a list of assigned tasks. Entrants will be asked to take a "selfie" photo at a nearby business and upload the photo onto their Facebook and Instagram pages using the hashtag #SelfieHunt.
Participating businesses for the #SelfieHunt include Kincaid's, Coffee Cartel, Magical Blooms, Paciugo Gelato & Caffe, Project Taco, Sharks Cove, King Harbor Brewing, Torrance Bakery and Sushi Gone Wild. Robbins Brothers will host a grand prize drawing for all qualified participants on Sunday, November 1st. Other prize drawings include gift cards from featured businesses.
"Whether it's an engagement party for customers or a 'girls night out' event, we enjoy partnering with businesses in the community to offer customers an engaging and memorable experience," said Raja Muzaffar, general manager of Robbins Brothers in Torrance. "Helping fulfill a customer's engagement dream is important to us and we're fortunate to have business partners such as Simon G. and other companies who also see the significance of such a romantic milestone."
For more information on the #SelfieHunt, how to enter and the official rules please visit
engaged.robbinsbrothers.com/selfiehunt.