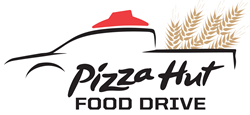 ...our employees believe in philanthropy, volunteerism, and community involvement and through our corporate commitment to charities, we hope to make a difference and to give back
Waukesha, WI (PRWEB) October 20, 2015
Wisconsin Hospitality Group, LLC (WHG) and its 82 Pizza Hut restaurants, in combination with the company's new foundation, WHG Cares, are gearing up for their Pizza Hut Food Drive, which will run October 16th through November 14th, in support of local food pantries across Wisconsin.
Wisconsin Hospitality Group, LLC (WHG) will be joining the Hunger Task Force along with 56 free and local partners across the state in the fight against hunger right here in the company's home state of Wisconsin. The company will be establishing their 82 restaurants as food drop-off sites for non-perishable food items. Customers can drop off their food donations at their local Pizza Hut restaurant to receive an exclusive Pizza Hut coupon for 20% off orders of $20 or more in recognition of their generous donation.
To centralize all fundraising across both its Applebee's and Pizza Hut brands, Wisconsin Hospitality Group, a Wisconsin-based restaurant franchise group, has established WHG Cares, a non-profit foundation. Based in Waukesha, WHG Cares makes it a priority to keep campaign costs down and to provide 100% of campaign net proceeds to its charitable partners. Throughout the last 16 years, WHG has been able to donate more than $2.4 million in combined gifts to local charities including Children's Hospital, World Hunger Relief, Honor Flight and One Heartland. These donations were made possible by both the generosity of guests and the hard work of all WHG team members.
"Wisconsin Hospitality Group and our employees believe in philanthropy, volunteerism, and community involvement and through our corporate commitment to charities, we hope to make a difference and to give back," Dillon said.
Wisconsin Hospitality Group owns and operates 118 restaurants across Wisconsin. WHG has grown in sales to become the largest food service franchise company in the state. Headquartered in Waukesha, WHG operates 36 Applebee's Grill & Bar restaurants and 82 Pizza Hut Restaurants, all committed to guest satisfaction and community support.