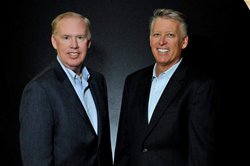 WHE co-owners Johnson and Gooding oversee over 320 real agents in 10 offices that are generating a rolling 12-month sales volume of $1 billion.
San Diego, California (PRWEB) October 16, 2015
Windermere Homes & Estates (WHE) recently opened three new offices in San Diego County including Alpine, Fallbrook and Scripps Ranch. WHE now has nine offices throughout the County and recently opened a tenth office in Coachella Valley. The company is also planning locations in Escondido, La Mesa, Indian Wells and Palm Springs as it surpasses $1 billion in rolling 12-month sales volume based on data from Broker Metrics.
WHE representatives say the new offices are needed to serve the robust housing market in San Diego County. Although overall sales volume of single detached homes in San Diego declined slightly by about 2.697 percent in September 2015, the median sales price for area homes remains healthy at $682,667, up 4.455 percent from the same month in the prior year, according to the 2015 Greater San Diego Association of REALTORS ® summary statistics for San Diego County.
"This type of market, with sales volumes going down slightly and prices continuing to go higher, calls for highly skilled real estate agents—and that's what we have at the Windermere Homes & Estates offices," said Windermere Homes & Estates Co-owner and Broker Brian Gooding. "The agents at the new offices in Alpine, Fallbrook and Scripps Ranch have a deep knowledge of their neighborhoods and know how to move properties at these higher price points we are seeing."
The WHE Alpine office is located at 2605 Alpine Boulevard, in Fallbrook at 746 S. Main Avenue, and Scripps Ranch at 9988 Hibert Street.
WHE, founded by Brian Gooding and Rich Johnson about two years ago, is the fourth largest residential real estate brokerage in San Diego based on sales and has about 320 agents.
"It isn't enough to just open offices and add agents, you have to set up the offices for success with the latest technology, superior agent support and unrelenting commitment to consumer satisfaction," said Co-owner and Broker Rich Johnson. "That's the type of approach that has gotten us to where we are today."
Windermere Homes & Estates plans to add more agents. For more information, call 760-585-8868, or contact Brian Gooding at briangooding(at)windermere(dot)com or Rich Johnson at richjohnson(at)windermere(dot)com.
About Windermere Real Estate
Windermere Real Estate is ranked the largest regional real estate company in the Western U.S. with over 300 offices and 7,000 agents serving communities in Alaska, Arizona, California, Colorado, Hawaii, Idaho, Montana, Nevada, Oregon, Utah, Washington, and Mexico. The Windermere family has a proud heritage of serving our neighbors via the Windermere Foundation which funds services for low-income and homeless families. Since 1989, the Windermere Foundation has contributed more than $30 million towards improving lives in the communities where we live and work. For more information, visit http://www.windermere.com.
Media Contact:
Julie Willis
Julie(at)clearpointagency(dot)com
760.230.2424