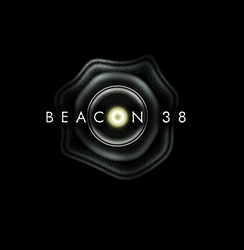 Los Angeles (PRWEB) October 16, 2015
Mobius Digital is excited to release Beacon 38 for iOS and Android devices. Designed by the same team behind 2015 IGF Grand Prize winner Outer Wilds, Beacon 38 is a mobile space exploration game where you use sonar to navigate through a dangerous, beautiful alien world that constantly surprises and challenges. Players navigate their tiny scout ships past massive predators, mysterious creatures, and unknown peril to escape the 38th Dimension.
Beacon 38 was developed during the pre-production of Outer Wilds and has many identical design principles despite being a mobile game: both games are space exploration games that reward curiosity in a dangerous world. In Beacon, players use the core mechanics of sonar pinging and navigation to make their way through an ever changing, evocative ecosystem that must be understood to be overcome: the game consists of over a dozen sectors each with its own mechanics, creatures, and challenges.
With an art direction that blends Art Deco beauty with Lovecraftian horror and an engaging story world set in deep space, littered with lore, the thin red line between danger and safety is literally at the player's fingertips.
The game is available now on the App Store and Google Play.
Promo code requests and press inquiries can be sent to support(at)mobiusdigitalgames(dot)com. The trailer can be viewed on YouTube.
GAME FACTS

Players navigate an alluring, unseen world where they must use sonar to briefly illuminate their surrounding environment, but the alien dimension reacts in many different ways to player movement—to unlock all the portals needed to finish the game, players must strike a fine balance between curiosity and control, figuring out how different creatures behave and getting past them accordingly.
The game features over a dozen different sectors each with their own feel, mechanics, and challenges, which amounts to several hours of challenging gameplay. Embedded in a rich storyworld with an art style blending Art Deco & Lovecraftian horror, with transmissions to a hidden story embedded across the game, Beacon 38 offers the player an engaging storyworld like no other.
Players can choose between gyroscopic control or a virtual D-Pad to move their ship, and the game features customizable flight controls so players can fine-tune their experience depending on the range of control they prefer.
Masi Oka, star of Heroes Reborn and Hawaii Five-0, founded Mobius Digital to bring challenging games to a diverse, worldwide audience. Oka himself has a huge technical and games background, having been a VFX artist for George Lucas' Industrial Light & Magic before acting. Oka sought out students at USC to work at his studio because he wanted the most innovative minds in the field.