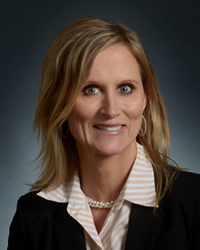 Louisville, Ky. (PRWEB) October 16, 2015
Landra D. Blackwell has joined Steptoe & Johnson PLLC's Louisville, Kentucky office. She practices in the firm's Business Department focusing on complex commercial transactions, finance, and banking law.
Blackwell's experience includes representation of clients in the acquisition, disposition, financing, and leasing of commercial projects for medical, retail, and manufacturing use. She also assists clients in the commercial finance industry with loans, financing, and other debt equity arrangements. Blackwell began her law practice in Texas and currently practices in Kentucky. She is an active member of the Kentucky Bar and Texas Bar.
She is a graduate of the University of Louisville, Louis D. Brandeis School of Law and earned her Bachelor's degree from the University of North Texas. She is a member of the March of Dimes, Louisville REACH Award Sponsorship Committee, and is a past chair of the corporate law section of the Louisville Bar Association. She is also a member and volunteer for Louisville Professional Tennis LLC.
About Steptoe & Johnson
Steptoe & Johnson PLLC is a U.S. law firm with more than 325 attorneys and core strengths in energy, business, employment, and litigation. Steptoe & Johnson operates 14 offices in six states including Colorado, Kentucky, Ohio, Pennsylvania, Texas, and West Virginia. Visit http://www.steptoe-johnson.com and connect with us on Twitter and LinkedIn.
For more information, contact Betsy Spellman, Chief Marketing Officer, at (304) 933-8000 or by email: press(at)steptoe-johnson(dot)com.
###