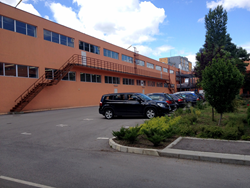 Establishing this new subsidiary in Bulgaria offers Express Diagnostics several strategic advantages … including expanded production capacity and reduced lead and shipping times within the EMEA. – Paul Johnson, CEO
Blue Earth, Minn. (PRWEB) October 19, 2015
Express Diagnostics Int'l, Inc. (EDI), FDA-registered and ISO 13485:2003-certified medical device manufacturer, today announces the formation of Express Diagnostics Global, Ltd. (EDG), a new subsidiary based in Sofia, Bulgaria. Central to a strategic plan to deliver increased production capacity and enhanced support to distributors in the EMEA region (Europe, the Middle East, Africa), EDG will dedicate manufacturing at its Sofia facility primarily to satisfying EMEA demand for EDI's DrugCheck® onsite drugs of abuse screening devices.
Express Diagnostics Global's startup is in the second stage of implementation, with construction, equipment acquisition, and staffing proceeding for a scheduled January 2016 start of medical device production, incorporating advanced manufacturing and quality systems designed to global standards. The subsidiary is operating in partnership with Royal Medical Supplies Pty. Ltd. – exclusive distributor of DrugCheck product in Australia and New Zealand – based in Sydney, Australia.
"We are very excited to announce the start of operations at Express Diagnostics Global," says Paul Johnson, CEO of Express Diagnostics Int'l. "Establishing this new subsidiary in Bulgaria offers Express Diagnostics several strategic advantages in pursuing accelerated growth with our EMEA distributors, including expanded production capacity and reduced lead and shipping times within the EMEA.
"In addition to opportunities presented by the extra capacity and physical location of the EDG-Bulgaria facility, is the potential of the skilled, available workforce in Sofia," adds Johnson. "Throughout the process of initial fact-finding to the current preliminary hiring stage, the quality of the people, candidates for employment, and in-country consultants our team has encountered is unsurpassed. We look forward to a long, mutually-beneficial relationship with the people of Sofia."
Express Diagnostics International's catalog of products satisfies two distinct, accelerating trends in both healthcare and non-diagnostic screening: focus on cost control and the desire for ever-faster results. With accuracy comparable to laboratory testing, EDI onsite screening devices provide a variety of industries fast, cost-effective alternatives to higher-priced lab services. As a result, continually growing orders from long-standing customers has stretched the production capacity of EDI's Blue Earth, Minn., facility in terms of locally-available workforce, due in part to the state's historically low unemployment rate.
The added capacity available through Express Diagnostics Global will free up production-line time at EDI's Minnesota facility and enable manufacturing dedicated to North American, South American, and Pacific Rim distributors. EDI estimates that Express Diagnostics Global's proximity to EMEA customers, relative to its Minnesota facility, will cut shipping times by up to 40 percent, with corresponding reductions in shipping costs. Due to anticipated reductions in both product lead times and shipping costs, EDG forecasts subsequent EMEA sales growth will necessitate the recurring addition of production staff at its Sofia facility through at least December 2018.
Express Diagnostics Global's manufacturing facility is located at 8, Iliansko Shose Street, Sofia 1220, Bulgaria.
About Express Diagnostics Int'l, Inc.
Express Diagnostics Int'l (EDI), FDA-registered and ISO 13485:2003-certified manufacturer of DrugCheck® onsite drugs of abuse screening devices, has grown from five employees to 100 since its founding in Blue Earth, Minn., in 2004. In recognition of this rapid growth, Inc. magazine recently named EDI to its Inc. 5000 list of fastest-growing companies in the U.S. – the third consecutive year the company has received this honor. The company's combination of toxicology, manufacturing, development, and marketing expertise has helped position Express Diagnostics Int'l as a world leader in rapid drug testing. Learn more at drugcheck.com.