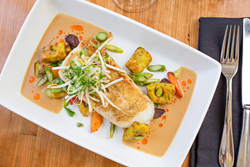 Charleston, S.C. (PRWEB) October 15, 2015
Oct 15, 2015 — Enjoy fresh and locally caught seafood while overlooking the iconic Charleston Harbor at the next South Carolina Aquarium Good Catch dinner at Fleet Landing Restaurant in downtown Charleston. The tapas-themed evening will feature sustainable seafood dishes expertly prepared by Executive Chef Drew Hedlund, along with wine pairings, on Monday, Oct. 26. Cocktail service begins at 6 p.m. and dinner will be served at 6:30 p.m.
As a Good Catch Platinum Partner, Fleet Landing is committed to showcasing local seafood that is harvested sustainably right off the Charleston coast. This is important not only to protect Charleston's delicate ecosystem but also to support vibrant fishing communities. Fleet Landing's waterside location makes it the perfect place to celebrate Charleston's fishing heritage during the evening's event.
Offerings include:

Lady's Island Oyster: Crispy fried with corn succotash and pork belly
Crab Imperial: Blue swimming crab with corn bread and charred scallion emulsion
McClellanville Shrimp: Avocado risotto, white balsamic reduction and ricotta salata
Murrells Inlet Jolthead Porgy: Flash-fried with fermented black bean sauce, bok choy and slaw
Murrells Inlet Amberjack: Pecan smoked with mustard greens, rice cake and Texas Pete foam
South Carolina Aquarium Good Catch Manager Shelley Dearhart will be in attendance to educate guests about Good Catch and ways to make sustainable seafood choices when dining out and at home. The dinner begins at 6:30 p.m., and tickets are $65 and include wine pairings. Seating is limited, and reservations are required. Call (843) 722-8100 to make your reservation. A portion of proceeds benefit Good Catch at the South Carolina Aquarium.
Fast Facts:

The Good Catch dinner takes place Monday, Oct. 26, 2015 with cocktails at 6 p.m. and dinner at 6:30 p.m.
Fleet Landing Restaurant is located at 186 Concord St., Charleston, SC 29401
Tickets are $65 and include a tapas-style meal and wine pairings
A portion of proceeds benefit Good Catch at the South Carolina Aquarium
Seating is limited, so call (843) 722-8100 to make a reservation
For all media inquiries, please contact Kate Dittloff at (843) 579-8660 or kdittloff(at)scaquarium(dot)org.
About South Carolina Aquarium Good Catch:
Good Catch generates awareness and leads communities in support of healthy fisheries and consumption of responsibly harvested seafood. The program pragmatically balances the health of the environment with South Carolina's demand for seafood by working with consumers and chefs, helping them make wise seafood choices to support healthy, abundant oceans. More than 115 restaurant partners have committed to serve and purchase sustainable seafood whenever possible and to avoid species that are immediately vulnerable to extinction. As a community, when we choose seafood from local, sustainably managed fisheries or dine at restaurants which do the same, we minimize our impact on the environment. Find the most up-to-date Good Catch partner list and more information on making good seafood choices each season at scaquarium.org/goodcatch.
About Fleet Landing Restaurant:
Located right on the water looking out at the iconic Charleston Harbor at 186 Concord St., the critically acclaimed Fleet Landing Restaurant has earned its spot as one of Charleston's famous restaurants. Owned by Tradd Newton with Executive Chef Drew Hedlund at the helm, Fleet Landing Restaurant offers a menu that integrates fresh, locally sourced classic and contemporary Southern fare using sustainable seafood and seasonal produce indigenous to the Lowcountry.
About the South Carolina Aquarium:
The South Carolina Aquarium features thousands of amazing aquatic animals from river otters and sharks to loggerhead turtles in more than 60 exhibits representing the rich biodiversity of South Carolina from the mountains to the sea. Dedicated to promoting education and conservation, the Aquarium also presents fabulous views of the Charleston Harbor and interactive exhibits and programs for visitors of all ages.
The South Carolina Aquarium is a 501(c)(3) not-for-profit organization and is open daily from 9 a.m. to 5 p.m. The Aquarium is closed Thanksgiving Day, half day Dec. 24 (open 9 a.m. to 1 p.m.) and Dec. 25. Admission prices are: Toddlers (2 and under) free; Youth (3-12) $17.95; Adults (13+) $24.95. The Aquarium plus the 4-D Theater experience is free for Toddlers, $22.95 for Children, $29.95 for Adults. The 4-D Theater experience only is $6.95 for Children and Adults and free for Members. For more information, call (843) 577-FISH (3474) or visit scaquarium.org.
###