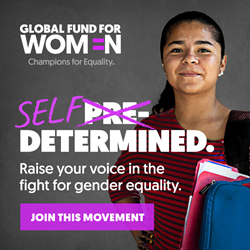 ...we couldn't have been more pleased with the collaboration.
(PRWEB) October 17, 2015
San Francisco based branding and design agency, Good Stuff Partners, has collaborated with the Global Fund for Women to reposition their brand, redesign their identity, and develop their brand communications.
Global Fund for Women is a champion for gender equality, working in over 175 countries around the world, winning rights for millions of women and girls.
Good Stuff Partners worked with the Board, Executive, Leadership and Brand teams to ensure that the new Brand strategy was completely aligned with the foundation's new strategic direction. This collaborative approach was echoed by Musimbi Kanyoro, President and CEO of Global Fund for Women:
"I have appreciated how carefully Good Stuff Partners listened to us and to our extensive network as we worked closely to bring our new brand to life. They consistently provided professional guidance, shared insight and expertise from their experience, and brought creativity to ensure that the new Global Fund for Women identity boldly captures our spirit, our history, and our vision for a future where gender equality is a reality everywhere. No exceptions."
The new brand positioning & identity is the result of ten months' work and close collaboration across the entire organization. Good Stuff Partners also developed the positioning, naming, and visual design for the #Determined campaign to launch the new brand. It tells the stories of brave women and girls from around the world who are fighting for the right to self determination. The campaign shares the impact of Global Fund for Women's work, and rallies the support of advocates so they can help the millions of other women and girls who are still denied their basic human rights.
Aimee Kilmer, Partner at Good Stuff said:
"This has been one of the most complex brands we've developed, as well as one of the most rewarding.
For an agency like ours, that's focused on doing good, it's been a dream project. It was hugely motivating knowing our work will help our client reach even more women and girls who don't have the rights they're entitled to.
The success of the rebrand wouldn't have happened without the trust we built guiding our client through all the twists and turns of the project. They've really embraced the brand and run with it. It's created a new energy throughout the organization and has hopefully inspired the incredible people who work there."
To make sure all their communication is bold, simple and clear, Good Stuff Partners have delivered both print and digital assets, from concept to finished designs, including the branding of their new headquarters in San Francisco.
Catherine King, Global Fund for Women's executive producer, said: "Good Stuff Partners have been true partners to the Global Fund for Women team in every sense of the word. Throughout our branding process, from demonstrating a deep understanding of our needs and vision, to providing supreme creativity, expert project management and nuanced advice at every stage of the branding process, we couldn't have been more pleased with the collaboration."
Good Stuff Partners is a San Francisco based Brand Strategy, Brand Identity and Brand Experience agency.
They believe doing good is just good for business. goodstuffpartners.com