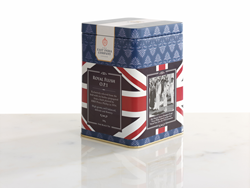 Honolulu, Hawaii (PRWEB) October 15, 2015
This Holiday Season, The East India Company will be taking customers at Neiman Marcus, Ala Moana, on a journey of epicurean delight as it launches a select range of evocative teas and fine foods. The new collection will include 29 carefully selected signature tea caddies, artisan sweet and savory biscuits, chocolate enrobed fruit and nuts, luxury condiments as well as a selection of refreshing cordials – ideal for those warm sunny days. Treat yourself to an elegant afternoon tea and try a cup of The Staunton Earl Grey Tea, which is perfectly paired with our Caramel & Sea Salt Biscuit and White Chocolate Enrobed Strawberries for a quintessentially British experience.
The East India Company was founded to explore the mysteries of the East. As the company grew, it mapped key trade routes through unchartered territories and changed social customs, tastes and the way of thought, which influenced the very fabric of our lives today.
The East India Company made a wide range of elusive and exotic ingredients familiar, affordable and available to the world - ingredients which are now part of our daily and national cuisines. Today their return combines a decidedly British heritage with those same ingredients along with unique recipes, and innovative flavors. Visit Neiman Marcus Ala Moana to discover this exclusive range of fine teas, biscuits, chocolates and preserves.
Notes to Editors:
About The East India Company
Since its creation in 1600 by The Royal Charter granted by Queen Elizabeth I, the influence of The East India Company has been extensive. It influenced Britain's dining tables through the introduction of tea, coffee, chocolate, and spices, but more fundamentally, it changed the world's tastes, its thinking, and its people. It created new communities, trading places, cities and shaped countries and commercial routes.
The East India Company's Fine Foods range today includes over 140 teas, coffees, biscuits, jams and marmalades, mustards, sweets, chocolate bars and boxes, gift sets, luxury hampers and accessories. The Company now has seven UK stores (Conduit St, Covent Garden–Long Acre, Covent Garden Piazza, The Royal Exchange, Westfield London, Bluewater-Kent and a concession in Harrods) in addition to its three stores in the Middle East (Kuwait, Qatar, UAE). The Company is represented globally through Duty Free (Vienna, Frankfurt, Doha), major retailers including Selfridges in the UK, Bijenkorf in Amsterdam, David Jones and Thomas Dux in Australia, Shinsaegae in South Korea, Dean & Deluca in Thailand, Takashimaya (Singapore & Japan), Queen's Isetan, Mitsukoshi and Meida-ya in Japan.
http://www.eicfinefoods.com
http://www.theeastindiacompany.com
For further information please contact:
Randi Leeds
Managing Director
Apart Agency
randi(at)apartagency(dot)com
+1 (203) 912-2599
Sonja Krippendorf
Sr. Marketing Executive - Franchise & Global PR
DD: +44 (0) 208 732 1430 E: sonja.krippendorf(at)theeastindiacompany(dot)com