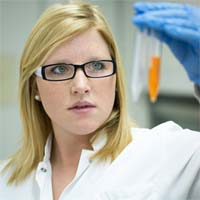 Serum survivin levels...could serve as a biomarker predicting malignant mesothelioma treatment response,
Raleigh, NC (PRWEB) October 17, 2015
Doctors at the University of Ljubljana believe a blood test for a protein called survivin might be key to predicting chemotherapy response in mesothelioma. Surviving Mesothelioma has just posted an article on the recent study. Click here to read it now.
The Institute of Biochemistry research team tested for survivin in the blood serum of 78 pleural mesothelioma patients prior to chemotherapy.
According to the report in the journal DIsease Markers, mesothelioma patients with the highest serum levels of survivin before chemotherapy were most likely to have progressive disease, but those with the highest levels after chemotherapy had better odds of surviving mesothelioma..
"These results suggest that serum survivin levels before and during chemotherapy could serve as a biomarker predicting malignant mesothelioma treatment response," writes author Katja Goricar, a researcher with the institute of biochemistry at the University of Ljubljana.
"There is not much room for error in mesothelioma treatment planning," says Surviving Mesothelioma Managing Editor Alex Strauss. "It is encouraging to think that a simple blood test might help make the path a little clearer."
To find out why the research team was surprised by the study results, see Biomarker Could Help Predict Mesothelioma Treatment Response, now available on the Surviving Mesothelioma website.
Goricar, K, et al, "Serum Survivin Levels and Outcomes of Chemotherapy in Patients with Malignant Mesothelioma", September 16, 2015, DIsease Markers, Epub ahead of print, http://www.hindawi.com/journals/dm/2015/316739/
For nearly ten years, Surviving Mesothelioma has brought readers the most important and ground-breaking news on the causes, diagnosis and treatment of mesothelioma. All Surviving Mesothelioma news is gathered and reported directly from the peer-reviewed medical literature. Written for patients and their loved ones, Surviving Mesothelioma news helps families make more informed decisions.