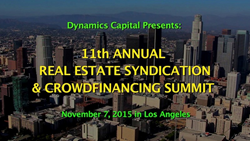 "This is a Real Estate Conference for learning all about Real Estate investing in commercial properties – even if attendees are not real estate experts, and even if they do not want to use their own money." – Karim Jaude
Los Angeles, California (PRWEB) October 17, 2015
Dynamics Capital Announces Keynote Speakers For Its 11th Annual Syndication and Crowdfunding Conference
Dynamics Capital, a premier Los Angeles Real Estate Company today announced its lineup of major keynote speakers for its annual "Syndication and CrowdFunding Conference" to take place in Los Angeles on January 20-21, 2016. The stellar lineup of keynote speakers will be presenting the latest developments and technology in syndicating and crowdfunding commercial real estate properties. The conference will include highly anticipated keynotes and panelists from such industry luminaries as Nav Athwal, the CEO of RealtyShares, Doug Cochrane, the Vice president of Patch of Land, Howard Hill, the Vice President of Folio Institutional, Ryan Granito, the Vice President of Fundrise, and Hugh Hilton the CEO of Alvarez & Marsal, a major commercial real estate funding and management company. Dynamics Capital will soon announce additional keynotes and sponsors for this annual Los Angeles conference.
"This is a Real Estate Conference for learning all about Real Estate investing in commercial properties – even if attendees are not real estate experts, and even if they do not want to use their own money." – Karim Jaude
Real estate syndication and real estate crowdfunding enables investors to partner with others and join resources to purchase larger commercial real estate properties than they would ordinarily purchase alone. In this very informative conference, attendees will learn everything about real estate syndication, and even if an investor is already sponsoring partnerships, she will learn the latest innovative techniques for profitable Commercial Real Estate Investing. Numerous examples will be presented on how to do real estate syndication better, and more profitably, from true experts in this field.
With the birth of a plethora of crowdfunding platforms on the Internet, Real estate financing has changed tremendously in just the past eighteen months. In this real estate conference, attendees will join over 100 real estate investors, lenders, companies, attorneys, CPA's, and brokers as our noted speakers and panelists discuss everything NEW in commercial Real Estate including sourcing the properties, analyzing their value, structuring the deals, and all aspects of Real Estate Syndication, and Real Estate CrowdFunding.
To learn more and to register: http://www.RealEstateSyndicationSummit.com.
Dynamics Capital Media Contact: Melinda, 310-471-0650