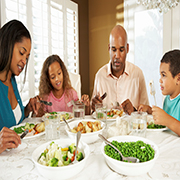 Eat Better, Eat Together Month is a great opportunity to bring families together and bring healthy eating into the spotlight
Denver, CO. (PRWEB) October 20, 2015
Eat Better, Eat Together Month
Food manufacturers, distributors and retailers are granted many opportunities to embrace periods of awareness building throughout the year, but October might be the most important month of all in this regard. Not so long ago, individuals started to observe Eat Better, Eat Together Month, which is meant to raise awareness regarding the importance of smart food product selection and familial time spent over meals.
This means businesses in this sector will have a chance to raise awareness regarding health with respect to families and foods, all the while building their brand with food labels to position themselves as a firm that cares about its customers. What's more, Thanksgiving is only a month or so away at this point, meaning that food industry players can get the word out about their own products before one of the biggest family eating days of the year.
Custom Food Labels
To ensure that the strategy around embracing Eat Better, Eat Together Month is tight and drives brand recognition while raising awareness, food sellers might want to leverage custom food labels in the coming weeks. Highlighting nutritional values, offering easy recipes the whole family can enjoy and stressing the importance of home-cooked meals being shared by families on a daily basis is not all that easy to do with a boilerplate label.
On the other hand, with customized food labels, firms will be able to design unique items to place on their products that are meant to be shipped this month, and even into November and beyond. This particular campaign is not only observed or discussed in October, but this month is the time that will have the greatest attention paid to the movement, so getting the projects in motion soon will work in favor of food companies.
"Eat Better, Eat Together Month is a great opportunity to bring families together and bring healthy eating into the spotlight," Scott Proctor, VP of Sales at Lightning Labels, explained. "Food industry businesses would do well to support this movement and contribute to building awareness in the coming weeks."
Custom food labels may be used to direct consumers to websites and other mediums where they can learn more about the meanings behind Eat Better, Eat Together Month or health-based information regarding food choices.
Following Through
Again, companies that view these opportunities in a broader scope will tend to enjoy stronger results from the strategies, and this would be marked by the inclusion of these processes into standing marketing and labeling procedures. The next few months will not only be critical to the average food industry competitor's revenues for 2015, as they will also tend to impact the ways in which the firm performs in the first few months of 2016.
Eat Better, Eat Together Month presents industry players with opportunities to step outside of the box, create deeper connections with their clientele and boost awareness regarding nutrition, all in one fell swoop. Working with a professional service provider such as Lightning Labels can help to ensure that the designs carry the desired message, and that the materials are returns in a timely fashion.
Custom food stickers can go a long way toward boosting trust in and recognition of any brand.
About Lightning Labels:
Lightning Labels uses state-of-the-art printing technology to provide affordable, full-color custom labels and custom stickers of all shapes and sizes. From small orders for individuals to the bulk needs of big businesses, Lightning Labels is equipped to handle and fulfill custom label and sticker projects of all types. Best of all, like the name implies, Lightning Labels provides a quick turnaround for every customer's labeling needs. Uses for Lightning Labels' custom product labels and custom stickers include food packaging and organic food labels, wine and beverage labels, bath and body labels, and nutraceutical products, such as vitamins, essentials oils, and herbal remedies, as well as event stickers, adhesive window stickers and more. Lightning Labels strongly supports the development of environmentally friendly printing materials and carries EarthFirst PLA, a new kind of green label material made from corn instead of petroleum. While operating as a high-tech printer, Lightning Labels prides itself on its personalized customer service. Lightning Labels provides one stop shopping for all of your custom label needs. For more information and to place orders online, visit LightningLabels.com. For the latest in packaging news and labeling promotional offers, find Lightning Labels on Twitter (@LightningLabels), Facebook, Pinterest, Google and LinkedIn.