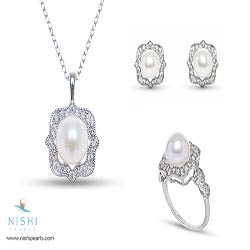 Montreal, Quebec (PRWEB) October 16, 2015
Nishi Pearls' international team of award-winning designers have been dedicated to creating collections to satisfy both the fashion forward and the classic customer. Effortlessly chic and appropriate for all occasions, it's no wonder Nishi Pearls is quickly growing in popularity and expanding their reach to the duty free/travel retail markets. Nishi Pearls recently appointed Alfa Brands as their exclusive Duty Free/Travel Retail agent for North America to help facilitate this exciting new venture. Winner of multiple Gold Standard Awards presented by the FDFA-Canadian Frontier Association, Alfa Brands is an active member of the FDFA and IAADFS and services all North American Duty Free/Travel Retail Market segments including; Airports, Canadian and Mexican Borders, Airlines, Diplomatic Agencies, Cruise Ships and Ship Chandlers. It is clear that Nishi Pearls' goal is to continue creating collections that are unique and desirable to solidify existing relationships and forge new ones.
Nishi Pearls' passion for pearls is reflected in their brand and there is no doubt that Alfa Brands will maximize opportunities to share that passion with others. Nishi Pearls chose Alfa Brands as an ally since relinquishing control over pricing, distribution and marketing was not an option. Alfa Brands offers an alternate solution that focuses primarily on sales, administration, field sales calls, trade show representation and strategic consultation to accelerate Nishi Pearls' infiltration to the duty free market.
Alfa Brands founder, Franco Gabriele who is also one of the founders of the FDFA says, "We are honoured for having been selected by Nishi Pearls to be their duty free/travel retail agent in North America, and we are thrilled about this very exciting partnership".
Nishi Pearls will be on show in Alfa Brands' Suite 924 at the Frontier Duty Free Association Convention at the Westin Bayshore hotel in Vancouver, from November 15th -18th . Alfa Brands will be promoting Nishi Pearls' unparalleled merchandise and exclusive display options which includes the Nishi Pearls Tower. This tower showcases their striking genuine cultured pearl jewelry and acts as a great tool to expedite sales due to its remarkable product visibility features and LED lighting.
Nishi Pearls™ is a brand that specializes in designing and creating a wide range of genuine cultured pearl jewelry that creates the perfect marriage between classic and contemporary. With offices located in Asia, Canada and the U.S.A, Nishi Pearls has been making its mark at some of the most prominent international jewelry fairs including the Jewelers International Showcase, the Orlando Duty Free Show of the Americas and the Jewelers' Circular Keystone's (JCK) annual trade show in Las Vegas, to name a few.
Nishi Pearls' dedication to quality is reflected in its partnerships with leading professionals, including their latest co-branding endeavor with Swarovski as well as Air Canada's Inflight program. Their award-winning jewelry is inspired by the consumer of today and the fashion of tomorrow.
Visit them at: http://www.nishipearls.com/online/