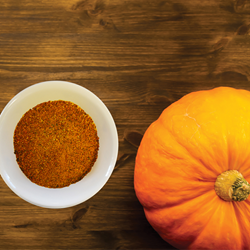 Wolcott, NY (PRWEB) October 23, 2015
Pumpkin is high in fiber, low in calories and has an abundance of disease-fighting nutrients, including beta-carotene, potassium, vitamin C and magnesium. Studies have shown that the phytosterols in pumpkin seeds can help reduce "bad" cholesterol and help aid in digestion. Dried Pumpkin Pomace works well in soups, stews, frozen entrees, dry mixes, bakery items and pet food. It's also a natural colorant that is helpful in bakery and pet food products.
"Pumpkin Pomace is a seasonal and unique ingredient that has a very short window of opportunity to capitalize on each fall," said Casey Koehnlein, General Manager, Marshall Ingredients. "Since there is a limited supply of pumpkins and the season is short, we dry pumpkin to each customer's specifications." Marshall Ingredients provides milling capabilities from 10 mesh to 200 mesh sizes in addition to specific custom blends.
Marshall Ingredients is a producer of high-quality food ingredients, specializing in all-natural dried fruit and vegetable products such as dried apple fiber, dried blueberry fiber, dried cranberry fiber, and more. Everything we produce is human grade, but our ingredients are perfectly suited for pet diets as well. We are now OU Kosher certified.
For more information about Marshall Ingredients, visit http://www.marshallingredients.com, or
call 1-800-796-9353