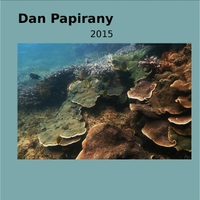 'I enjoy playing with with musicians who listen and interact with each other.' - Dan Papirany
(PRWEB) October 19, 2015
Dan Papirany discovered Bill Evans and Keith Jarrett's piano playing early in his musical career, leading him to chose the piano of choice as his musical instrument. He vividly remembers a quote from drummer Peter Erskine, "play what you mean and mean what you play"–for this quote opened up a whole new horizon for him as he began to play and record professionally as a serious musician.
Dan's trio recorded their debut album of jazz standards, which was released by Ode Records, entitled "Session One" and was nominated for a New Zealand Music Award. "Session Two" was a compilation of original tunes, and the three releases afterward were live albums recorded at the trio residency venue the "MLC Café & Bar." His 6th album, "2011," and his 7th album, "2014," includes his original "Bargara," which won second place in the Australia Jazz Convention original tunes competition in December 2011. His latest recording is titled "2015" and includes one original tune entitled "Eb Major Waltz."
Papirany's music is the opposite of where the mainstream jazz sound is today–he finds that current sounds are always experimental and doesn't try to follow these trends, simply because he wouldn't be happy sounding like most modern players. His repertoire consists mostly of originals and jazz standards and finds that his playing has matured and his phrases have become more melodious. He stretches across the bar line with phrases appearing to be more defined and resolving better than before as he consistently reaches for higher heights in his musical abilities. His favorite musical setting is to perform at a venue that houses a grand piano with a cohesive group of musicians who listen and interact with each other as they counter solo with the piano, like the Bill Evans trio is known for presenting. Check out Dan's trio performing "Blue Bossa" at https://www.youtube.com/watch?v=Qdk7LZjPjek.
"It is such a joy to discover such a wonderful jazz musician across the waters that has such a soulful expression in his recordings. You can clearly sense the influence of Bill Evans in his playing as you listen to his melodic storytelling in his tune 'Eb Major Waltz.' It's an honor to feature him," says Jaijai Jackson of The Jazz Network Worldwide.
He currently has a collaboration with Norwegian vocalist Vibeke Voller, resulting in an exciting, rich and creative inspiration to much loved jazz standards! "Don't go to strangers" is their first duo album. The complimentary interaction of these two unique talents has produced a fresh and polished musical experience!
Dan is currently in talks with Jazz and Blues TV to bring his trio to their studios for live streaming performances as well as being recognized as a featured artist on The Jazz Network Worldwide. His plan for 2016/2017 is to sign with non-exclusive agents worldwide to garner performances on jazz festival stages worldwide.
Be sure to check out Dan's feature on The Jazz Network Worldwide at http://www.thejazznetworkworldwide.com. To learn more, go to http://www.danpapirany.com, and to purchase Dan's current CD "2015," go to http://www.cdbaby.com/cd/danpapirany3.
##