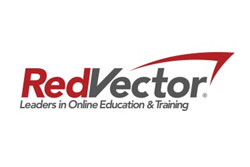 I am confident it will enhance training, and in turn, help employees reduce maintenance costs and equipment downtime by detecting equipment faults
Tampa, FL (PRWEB) October 16, 2015
RedVector, the leader in eLearning and workforce training solutions for the industrial manufacturing industries, has launched a new, 8-course Applied Vibration Analysis Training Series to help companies analyze machine vibrations and uncover issues that may contribute to production downtime.
Throughout this 8-course series, RedVector will outline causes of vibration in different types of machinery (primarily those with rotating components), present ways to analyze bearing, gear, fan, pump and motor vibrations, summarize the instruments used to detect vibration, and show how to collect and analyze spectral data.
"This Vibration Analysis Series is an important addition to our Industrial Maintenance Training offerings," said RedVector Product Director Dan McGonegle. "I am confident it will enhance training, and in turn, help employees reduce maintenance costs and equipment downtime by detecting equipment faults."
RedVector Applied Vibration Training Course List:
Applied Vibration Analysis: Introduction
Applied Vibration Analysis: Collecting Spectral Data
Applied Vibration Analysis: Analyzing Spectral Data
Applied Vibration Analysis: Analyzing Bearing Vibrations
Applied Vibration Analysis: Analyzing Gear Vibrations
Applied Vibration Analysis: Analyzing Fan Vibrations
Applied Vibration Analysis: Analyzing Pump Vibrations
Applied Vibration Analysis: Analyzing Motor Vibrations
With online training offerings on 5S, Total Productive Maintenance (TPM), Applied Vibration and much more, RedVector continues to focus on helping organizations improve productivity and maintenance and prevent production downtime.
About RedVector
RedVector sets the standard for excellence in online continuing education and training for the architecture, engineering, construction (AEC), industrial manufacturing and facility management industries and holds nearly 100 state and national accreditations. RedVector offers individual courses as well as large-scale corporate training solutions featuring customizable and easily accessible online universities with a full range of tracking and reporting features. With an online library exceeding 2,250 courses authored by more than 100 subject matter experts, RedVector serves professionals and organizations in all 50 states. The recipient of numerous community honors and industry awards, RedVector was founded in 1999 and is headquartered in Tampa, Florida. For more information, call 1-866-546-1212 or visit RedVector.com.