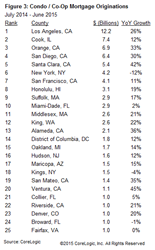 Demand for purchase loans grew 13% and 29 % for home equity lines of credit.
Chicago, IL (PRWEB) October 15, 2015
Lenders like The Federal Savings Bank were enthusiastic to read very positive origination data from a recent report from Corelogic.com titled "Condo and Co-Op Lending in an Upswing."
Corelogic, a provider of financial, property, consumer information, analytics, and business intelligence, reported on October 13th that "Condominium and housing cooperative (co-op) mortgage originations nationwide rose 31 percent to $39 billion in the second quarter of 2015 compared with $29.7 billion in the same quarter of the previous year." The large increase was primarily due to a 65% increase in refinance loans. Demand for purchase loans grew 13% and 29 % for home equity lines of credit. This put the dollar amount of purchase loan originations at $19.6 billion, or "the highest levels since the end of 2007 when it was at $21.3 billion." The Federal Savings Bank experienced this growth purchase loan demand firsthand in the Midwest where home sales rose tremendously throughout the spring and summer.
Regionally, Ventura, CA, experienced that largest quarterly increase of originations at 45%, second was Santa Clara, CA at 42%, and then Alameda, CA at 36%. With the cost of living high in California, demand for both purchasing homes and refinancing existing mortgages grew as home buyers and homeowners alike seek to save money in any way possible.
On a dollar scale, the top 5 new loan origination areas were, Los Angeles at $12.2 billion, second was Cook County, IL at $7.4 billion. Again, since The Federal Savings Bank loan business is based in Chicago, Cook County the increase in demand over the past year has been positively felt. Third was Orange County, CA at $6.9 billion, San Diego, CA at $6.4 billion, and fifth was Santa Clara, CA at $5.4 billion.
As expected, the increased in financing has results in the decline of condo and co-op cash sales. Corelogic stated that "Cash sales made up 47 percent of total condo and co-op sales in June 2015, down from 50 percent in June 2014 and down from its peak of 63 percent in February 2012. The year-over-year share has fallen each month since March 2012." This has been very good for lenders like The Federal Savings Bank. In fact, with demand on the rise since 2012 The Federal Savings Bank has always been encouraging its prospective home buyers to at least get pre-approved for a home loan before shopping for a property. The advantage of being pre-approved is if/when a property is found, the buyer can place a serious bid immediately. Lastly, mortgage rates are at historic lows, now is an excellent time to lock in a great interest rate.
Whether customer, reality or trusted referral source, The Federal Savings Bank understand how important every purchase or refinance transaction is to help our clients optimize the purchase or refinance of their home.