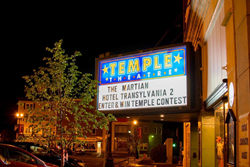 Houlton, Maine (PRWEB) October 19, 2015
The winner of an essay contest will become the new owner of the historic Temple Theatre in the small town of Houlton, Maine.
Owner Michael D. Hurley is offering the Temple Theatre business and building, including second-floor office space, a large owner's apartment, and an adjacent parking lot, to the writer of the best 250-word essay answering the question "Why would you be the best person (or family or group) to be the new owner of the Temple Theatre in historic downtown Houlton, Maine?" The contest has an entry fee of $100.
Hurley explained that he is offering the Temple Theater in a contest to open the door for people with a dream who otherwise might be unable to purchase a successful business, home, and real estate.
"Running a movie theater is fun and exciting, and this is an opportunity to get into the business debt-free and become the entertainment hub of a wonderfully supportive region," Hurley said. "Imagine the excitement of choosing the movies to show, hosting opening nights of blockbusters like Star Wars and The Hunger Games, and running a classic film series, special events for children or couples, or community fund-raisers."
In addition to the business and real estate, the winner of the contest will receive 30 days of consulting and training in theater operations. If the contest draws at least 3,500 entries, the prize also will include $25,000 cash.
Essays will be judged on writing structure, content, quality of expression, and creativity. The submission deadline is Jan. 15, 2016.
Houlton, population 6,123, is the county seat and business hub of southern Aroostook County, the largest county by area east of the Mississippi River. The theater is in the center of downtown, adjacent to a dramatic footbridge over the Meduxnekeag River.
The Temple Theatre has two screens with seating for 200 each, and it has operated nearly continuously since 1918. It was renovated in 2002, and was converted to digital projection in November 2014, with state-of-the-art projectors, servers and sound system. It shows first run films serving a variety of tastes. The building's second floor consists of 6,000 square feet with multiple leased office suites.
Complete rules for the contest and a full description of the prize and judging process are on the theater website, http://www.templemovies.com.
Submissions should be mailed to Temple Theatre Essay Contest, PO Box 188, Belfast, ME, 04915.
For more information, contact Mike Hurley, 207-338-1975, or mike(at)pilut.com.
# # #