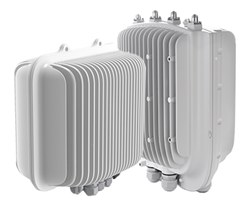 Lod, Israel (PRWEB) October 16, 2015
Telrad Networks, a global provider of TD-LTE broadband solutions, today announced that its BreezeCOMPACT base station was awarded the prestigious "Product of the Year Award" from the Wireless Internet Service Providers Association (WISPA), on October 14, at the WISPAPALOOZA conference in Las Vegas, Nevada. WISPA is the world's leading trade group representing wireless internet service providers.
BreezeCOMPACT is a revolutionary software-defined LTE base station that disrupts the economics of wireless broadband. Offering outstanding performance and flexibility, this standards-based solution sets the bar for LTE in fixed networks, and protects the network operator's investment with a software path to future LTE advancements. BreezeCOMPACT was selected by the membership of WISPA for this special recognition and award.
Product Highlights

Best TCO with outdoor CPEs in rural/suburban deployment or dense urban indoor scenarios
Superior NLOS using best-in-class 4TX x 4RX Radio
All-in-one modem and radio, in a single box
Software Defined Radio (SDR) 16e, LTE & LTE-Advanced
Carrier aggregation and dual sector
"Network-in-a-box" Embedded EPC
"We are pleased WISPA members voted to award Telrad the Product of the Year," said Nathan Stooke, CEO of Wisper ISP. "Their WISP-optimized LTE solution is a game-changer that has helped shift the conversation about what LTE can be for WISPs."
"We are extremely proud of this recognition," said Chris Daniels, General Manager of North America for Telrad. "This award validates our recent efforts to meet the challenging requirements of the North American WISPs. The BreezeCOMPACT is a revolutionary product that enables operators to deploy LTE networks in an affordable manner, helping them accelerate their deployments and reach previously unreachable customers. This has become a game changer for many of their business models, and I am excited to be working with this incredible group of entrepreneurs and innovators."
About WISPA
WISPA is a 501.c6 advocacy organization representing its membership and other companies who are part of the industry ecosystem. The Association promotes the development, advancement and unification of the wireless Internet service provider industry. The organization has over 800 members consisting of wireless Internet service providers, municipal wireless Internet providers, electric and telephone cooperative wireless Internet providers, equipment manufacturers, service vendors and other interested parties. (http://www.wispa.org)
About Telrad Networks
Telrad Networks is a global provider of TD-LTE broadband solutions, boasting over 300 4G deployments in 100 countries. Telrad stands at the forefront of the technology evolution of next-generation TD-LTE solutions in the sub-6 GHz market. Since 1951, the company has been a recognized pioneer in the telecom industry, facilitating the connectivity needs of millions of end-users through operators, ISPs and enterprises around the world. (telrad.com)