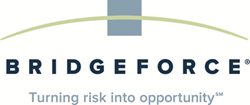 Chadds Ford, PA (PRWEB) October 16, 2015
As the financial crisis has eased, institutions are looking ahead to grow their portfolios and are seeking the best ways to accomplish this task. Bridgeforce Inc., a specialized multi-national consulting firm serving the lending and payments industry, will host a webinar on October 21, 2015 at 2:00 pm EST that outlines specific, actionable strategies that can be used to increase profitability and promote growth.
In the webinar, Bridgeforce will outline steps to take to capitalize on the opportunities the current landscape holds for financial institutions to mirror what has emerging competitors flooding the market. Recognizing how the customer experience that institutions deliver can influence growth will also be covered. Other approaches Bridgeforce will share include how to dig deeper when testing into new customer segments to understand the "credit story" as opposed to the "credit history", which can help make sure potentially good customers are not automatically declined due to outdated screening standards. Key action items will be provided throughout this interactive webinar.
"We know that 2016 will be highly focused on growth opportunities," said Michelle Macartney, Managing Director of US Banking Practice at Bridgeforce. "And our breadth of experience in the industry allows us to host a webinar that will provide real strategies to help financial institutions move past the challenges that the crisis presented and build a plan for growth."
For information on the webinar and how to register, go to the Consumer Bankers Association website at http://consumerbankers.com/cba-education/webinars.
About Bridgeforce
Bridgeforce is a specialized multi-national consulting firm serving a variety of clients involved in almost all aspects of the consumer and small business lending and payments space. Over 75 percent of Bridgeforce consultants come directly from client-side leadership positions across multiple parts of the credit lifecycle. Combined with subject matter expertise in operations, technology, strategy and regulatory issues, Bridgeforce has the knowledge and experience to make the hard choices in developing and implementing best-fit solutions that are both achievable and lower the risks of execution to ensure sustainability. Bridgeforce success can be attributed to a culture fostering innovation and evolving experienced-based best practices recognized within the industry. For more information, visit http://www.bridgeforce.com.