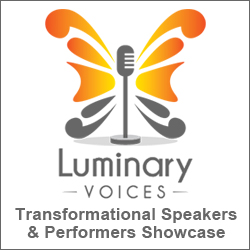 Life-Changing and Inspiring Speakers
(PRWEB) October 16, 2015
Do you have an audience hungry for some way to improve their lives? Two new resources will provide a short-cut to finding and booking compelling life-changing speakers who move, motivate and inspire people.
Conscious and Transformational Speakers http://www.consciousandtransformationalspeakers.com and Luminary Voices http://www.luminaryvoices.com are two new cutting-edge speaker services connecting speakers who have a message of individual or global transformation with eager audiences and enthusiasts.
These powerful motivational speakers touch on health and wellness, personal growth, spirituality, prosperity, business success, conscious living, intuitive and metaphysical skills, environmental sustainability, parenting, racial and ethnic harmony, global peace, meditation, yoga, stress-free living, women's empowerment and more.
They are available for booking at such venues as Unity Churches, Centers for Spiritual Living, Christian churches and gatherings, leading bookstores, women's organizations, resorts and conference centers such as Canyon Ranch and Omega Institute, conferences and conventions, multi-speaker events, yoga studios, wellness events, millennial gatherings, lifestyle expos, civic and fraternal organizations, and a variety of other venues and events.
Founded by Jackie Lapin, bestselling author, speaker and long-time publicist serving the mind/body/spirit community, Conscious and Transformational Speakers is a speaker representation service (much like a speakers' bureau) that aggressively pursues engagements for transformational speakers for a monthly fee. Luminary Voices is a speaker and performer showcase with a low-cost annual membership fee, which provides a gateway for bookers and coordinators to easily peruse people by subject matter, region and other criteria. Speakers are available at all fee levels with some available at complimentary or expenses-only consideration.
"We see these two resources as a vital connection between audiences seeking a better, happier life and the guides who can help them attain it," says Lapin. Conscious and Transformational Speakers and Luminary Voices are the speaker coordinators' fast-and-easy portal to finding the right speaker for the audience willing to engage."
The services are accepting new speakers and also actively seeking venues and events that desire to be on the list for speaker outreach.
To review speakers who are available or for more information, visit http://www.ConsciousandTransformationalSpeakers.com and http://www.LuminaryVoices.com or call Executive Director Sabrina Fritts at (818) 584 6720.
Media Contact:
Jackie Lapin
(818) 707-1473
jackie(at)consciousandtransformationalspeakers.com