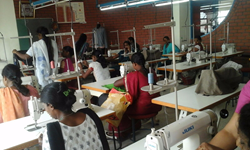 We give trafficked women their lives back through meaningful employment and social support.
DES MOINES, IOWA (PRWEB) October 16, 2015
Threads of Freedom & You (ToFu), a social enterprise that empowers victims of sex trafficking, creates positive futures for young women in southern India, said Paul N. Greenwood, CEO of Des Moines-based mygooi.com. He announced mygooi will be supporting ToFu's efforts to acquaint people in and outside of India with the organization's efforts.
ToFu (http://www.facebook.com/tofutribe), based in Bangalore, Karnataka, India, trains its beneficiaries to face life with confidence and skills that remove them far from the degradation earlier circumstances forced them into, says Threads of Freedom founder and CEO Pritham Raja.
"Typically, our beneficiaries come from impoverished circumstances and families that did not support their choices," said Raja. He gave as an example a 23-year-old woman from Bangalore he calls Dia (not her actual name).
"Because of her family's financial condition, Dia sought work at a garment factory near her home. There she met a boy. They decided to marry, much to the chagrin of her parents who, in response, married her to another man. She lived with her new husband for six months before she ran away and wed her lover. After they had a child, he became negligent and hurtful, so she went back to her family, only to be rejected.
"Distraught, Dia attempted suicide and was rescued by her younger brother, who took her baby home. Not having the courage to face her family, she searched for work, was tricked and forced into prostitution for two years before being rescued by Mumbai police and sent to a rehabilitation center. After again being rejected by her family, which felt dishonored by her disobedience and eventual trafficking, however unwilling, she worked odd-jobs that paid very little for over a year.
"After joining ToF's program, she has received training and secured a well-paying job that allows her to live independently."
Raja noted that ToF doesn't rescue women itself; instead it partners with rescue organizations and the Karnataka state Ministry of Women and Child Development to identify beneficiaries for its program.
"Our mission is simple," he says. "We give trafficked women their lives back through meaningful employment and social support. We train and employ rescued women in established manufacturing firms and collaborate with these firms to produce high quality clothing that we sell. Profits from the sales go to support our beneficiaries during their transitions." (See video at http://mytofu.org/pages/what-we-do)
mygooi is providing ToFu with web and social media pages, building video and digital conduits to people around the world interested in fighting sex trafficking.
"We very much appreciate mygooi's volunteering its considerable communication and programming skills on Threads of Freedom's behalf," Raja said.
About mygooi
mygooi™ (https://www.facebook.com/mygooi) is an energetic brand platform that is digital, creative, disruptive and global. Its portfolio of emerging products sizzle with IC/DC (Innovation and Creativity/Disruption and Community). mygooi's utility and purpose are to bring people together with innovative digital products. Based in Des Moines, Iowa, and Chennai, India, mygooi has as its mission to Go Where The Life Is.™
mygooi supports Threads of Freedom for You (http://www.mytofu.org), Compassion Charitable Trust (http://www.compassionchartiabletrust.org/index.html) and the Cystic Fibrosis Foundation (http://www.cff.org)
See mygooi updates and watch gooination grow on Facebook at https://www.facebook.com/mygooi.
Media Contacts:
Mark Perlman
mygooi
312-315-0707 / Markp(at)mygooi(dot)com
Richard Greb
mygooi
847-651-1445 / Richardg(at)mygooi(dot)com