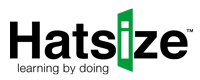 "When you give your training partners everything they need to run classes with cloud-based labs, not only does it make your partners and end-users happier, but it also reduces your support burden."
Calgary, AB (PRWEB) October 19, 2015
Hatsize Learning Corporation, the leader in global training labs for software products, has released a new system for managing both training partners and channel partners. In the past, it was a challenge for software vendors to give all of their authorized training partners a consistent and easy-to-use virtual lab solution. With Hatsize, software companies can now easily give each of their partners an individually branded portal with access to a standardized set of hosted training labs, while also providing them with a self-serve interface for scheduling their own classes.
"The new features give software vendors unprecedented control over partner training solutions," said Guy Hummel, Hatsize CEO. "When you give your training partners everything they need to run classes with cloud-based labs, not only does it make your partners and end-users happier, but it also reduces your support burden."
Hatsize's new system can also be used to give channel partners the tools they need to demo advanced software products or run proof-of-concept trials. Channel partners get access to a software vendor's standardized product demo environments, while also being able to customize the environments to show off the software products in the best way for their particular prospects and customers.
Find out more about the Hatsize virtual lab system at http://hatsize.com.
About Hatsize
Hatsize is the leading global provider of cloud-based training labs for software products. As a cloud service, Hatsize has successfully delivered over 2 million hours of hands-on training sessions for some of the world's fastest growing technology and training organizations including Symantec, Veritas, and MicroTek.
###
Contacts:
Steven Langmead
403-538-3526