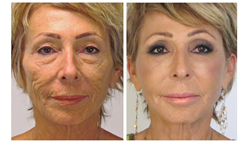 My results have been nothing short of life changing... I look like I've lost a decade
Las Vegas, NV (PRWEB) October 19, 2015
In our society, youth and beauty are held in high esteem. It's no wonder there are no shortage of creams, lotions, injectables and miracle procedures to help reduce the signs of aging. While there are many good options, there are just as many with limited results.
Kim B, a 55 year old resident of Las Vegas, has enjoyed her fair share of days in the sun and has also made choices like smoking and drinking alcohol that have accelerated the aging in her face. She's lost volume, leaving her with deep pronounced wrinkles throughout her face. She's tried temporary fillers like Juvaderm and Restylane with good results, but they were temporary and getting very expensive since she needed so much to achieve desired results.
"I was so frustrated with the way I look," says Kim B. "When I look in the mirror, I hardly recognize the person looking back at me. I knew that I had to get help because the problem has gotten out of hand."
She considered a face lift, but was scared of going under general anesthesia and she didn't want the large scars that come with that procedure. She's tried countless creams and lotions without success. The fillers that she had been using were simply getting too expensive to maintain.
"Kim had a substantial loss of volume in her face causing bags under her eyes and sunken look with dull skin and significant wrinkles throughout," says Trevor Schmidt PA-C, the owner and liposuction specialist at MyShape Lipo. "She was the perfect candidate for fat transfer to the face as she was in desperate need of more volume."
Fat Transfer refers to the removal of fat from an unwanted area such as the abdomen or thighs, then transfer of the fat into an area where additional volume is desired. The fat can be used in any part of the body, but is most commonly used in the breast, butt, hands and face. The results are very natural increases in size that look and feel normal since it is their own fat.
The procedures are done completely under local anesthesia through tiny pin holes that leave almost no scars to speak of. The addition of fat can help restore lost volume from age, pregnancy, weight loss or simply a desire to be larger.
"My results have been nothing short of life changing," says Kim. "I look like I've lost at least a decade and more importantly, I love the way I look now. I'm so much more confident already and I'm getting compliments all the time. I wish I hadn't waited so long."
While all of the synthetic fillers used to add volume to the face are temporary, lasting just 6-12 months, fat transfer is considered permanent. Once the body has accepted the fat, the results are believed to be permanent by most leaders in the industry.
"Kim's results are absolutely amazing. Seeing how natural her results came out is an inspiration to all those individuals who are trying to fight aging," says Schmidt. "If you have bags under your eyes, and more wrinkles than you are comfortable with, then this procedure may be right for you."
Recovery from the fat transfer is quite easy. The patient will have soreness at the site where the fat was removed. They will have swelling and bruising in the face for an average of 7-10 days after the procedure. Aside from looking swollen in the face, this shouldn't stop the patient from mild to moderate activities.
About MyShape Lipo
MyShape Lipo is a specialty clinic that focuses on liposuction, fat transfer and laser skin tightening. Their owner and liposuction specialist, Trevor Schmidt PA-C, has the experience of performing over 15,000 liposuction procedures. They attract patients from around the country to take advantage of their extensive experience and affordable rates. For a complimentary Body Shape Analysis in person or via the phone with pictures, call today, 702-818-5476.