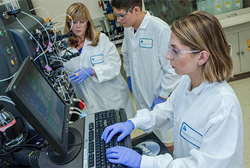 The integration of academic and industry experience has led many KGI alumni to career success, and I believe the hybrid nature of the MEng program will do the same for new incoming students.
Claremont, California (PRWEB) October 16, 2015
In continuing to provide programs that lead to successful industry careers, KGI's MEng program in biopharmaceutical processing will bridge the gap between undergraduate degrees and the needs of biopharmaceutical industries. The curriculum is tailored to students who have a life science-based undergraduate degree (biology, biotechnology, biochemistry), an undergraduate degree in a relevant-process engineering field (chemical and medical engineering), or an undergraduate degree in science and engineering. In alignment with KGI's strong industry connection, the program will include industry experience and networking. Courses will be delivered by industry professionals and academic experts through a combination of hands-on operations and conference-style presentations, seminars, and case studies.
MEng is one of the nation's preeminent platforms for providing scientists and engineers with the skills necessary to pioneer the next generation of biomanufacturing systems for the twenty-first century. In line with this version, KGI's MEng in biopharmaceutical processing aims to educate future leaders and give students the opportunity to develop impactful careers. In doing so, the MEng program will allow students to interact closely and network with practicing scientists and engineers working in the biopharmaceutical industries.
"The integration of academic and industry experience has led many KGI alumni to career success, and I believe the hybrid nature of the MEng program will do the same for new incoming students," said Steve Casper, dean of the School of Applied Life Sciences at KGI. "We are continuing to focus on creating leaders who are ready to shape industry, and I am confident that the curriculum offered through the MEng program is robust enough to do so."
The two-year MEng program is designed for high-potential individuals seeking a career in biopharmaceutical processing and biomanufacturing. Students in this program will acquire technical and broad industry knowledge and experience, and will build expertise in design and technology development, product and process research, and operations involved in taking a potential new drug molecule from discovery to biopharmaceutical therapy.
Students enrolled in this program will:

Obtain state-of-the-art scientific and technical skills required to take potential drug molecules from discovery to commercial application through participation in conference style lectures, seminars, individual and teamwork assignments, and a capstone Team Design Project.
Develop a powerful network through hands-on coaching and mentoring by senior academic and industry experts, housed within KGI's Amgen Bioprocessing Center.
Become skilled in key biomanufacturing areas, including product and process development, process validation, CMC regulatory compliance, and quality.
Enhance their professional skills and obtain knowledge of management issues within the biopharmaceutical industry.
Have opportunities to study abroad, participate in a paid industry internship, take part in a team project sponsored by industry, or participate in research activities within the Amgen Bioprocessing Center.
Learn essential skills required for a rewarding career in the biopharmaceutical processing industry.
Major scientific advances in areas such as genomics, high throughput screening, and informatics are leading to a new and exciting understanding of the molecular basis of disease. These offer the potential for new drug discoveries for treatment of many life-threatening and debilitating diseases such as Parkinson's, Alzheimer's, cancers, heart diseases, and rheumatoid arthritis. The translation of potential new drug discoveries into affordable, safe and efficacious medicines and therapies presents a host of challenges that go beyond and above the discovery process and requires a talent pool of scientists and engineers with a strong and disciplined knowledge base at the interface between discovery and biomanufacturing. Biopharmaceutical processing is the discipline that holistically combines all the components necessary to translate life science discoveries into commercial products. These components include: bioproduct and bioprocess research, development and characterization, biomanufacturing platform development, bioprocess modeling and scale up/scale-down, validation, quality and regulatory compliance, and process transfer to biomanufacturing.
The degree requires completion of 66 credits covering major components of the program. Students must choose between the two tracks available: the science track and the engineering track. Both tracks include courses in bioprocess engineering, life sciences, regulatory, IP, finance and management, and societal.
Most semester courses are 1.5 credits. A typical 1.5 credit course consists of approximately 24 contact hours, plus 60-70 hours for tutorials, small team assignments, course work, seminars, tests, revisions, and private reading.
*The KGI MEng program is pending WASC Approval.
For more information about the MEng program at KGI, go to http://www.kgi.edu/MEng.
For more information about the KGI School of Applied Life Sciences, go to http://www.kgi.edu/.
KGI's mission is to enrich society with breakthrough approaches to education and translational research in the life sciences. The KGI School of Applied Life Sciences is dedicated to education and research aimed at translating into practice the power and potential of the life sciences for the benefit of society.