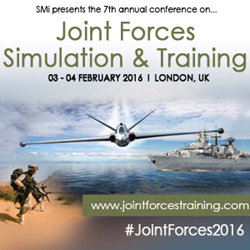 London (PRWEB UK) 19 October 2015
Faced with military budget cuts and fluctuating energy prices the global military simulation and virtual training market is in an excellent position for growth as the demand for more cost effective, cohesive training systems across militaries increases.
With the thinking that the military will probably have to cut back on live field exercises and increasingly rely on computer-based war gaming and training programmes to combat rapidly evolving threats, these projections create lucrative opportunities for the industry.
For more information or to register visit the website at http://www.jointforcestraining.com/prweb
Returning for its seventh year and following on from the major success of previous events, SMI are proud to present the 7th annual Joint Forces Simulation & Training Conference, 3rd – 4th February, 2016, London.
As modelling and simulation technologies and methods help organizations train to high-consequence scenarios, exercise and verify readiness, this is an event you do not want to miss. Join us and be part of a major networking experience where you will hear presentations, cases studies and panel discussions from international military services from UK, Europe and USA, focusing on the latest developments and technological advances in the quest for a more unified military unit.
GET £400 OFF THE CONFERENCE PRICE IF YOU BOOK BY 30TH OCTOBER!
For more information and to register, please visit http://www.jointforcestraining.com/prweb or contact Guy Hippisley Cox on +44 20 7827 6197 or email ghippisleycox(at)smi-online.co(dot)uk
KEY SPEAKERS FOR 2016:

European Defence Agency
German Army
Joint Force Command Brunssum
National Defence University, Warsaw
NATO JWC & University of Stavanger, Norway
NATO Modelling & Simulation Centre of Excellence, Italy
NATO Special Operations Headquarters
Polish Air Force
Royal Navy
Swedish Armed Forces
Turkish Air Force (TUAF)
U.S. Air Force, NATO Military Committee, Brussels
University of Defence, Brno, Czech Republic
USC Institute for Creative Technologies
For the full speaker line up, please visit http://www.jointforcestraining.com/prweb
BENEFITS OF ATTENDING:

Learn how militaries are ensuring they are mission ready across all disciplines as a single unit
Discover how to maximise the benefits of combined training exercises
Hear cutting edge presentations from key decision makers involved in training and simulation from across the globe
Network with your peers and build lasting relationships
-------------------------- END --------------------------
About SMi Group:
Established since 1993, the SMi Group is a global event-production company that specializes in Business-to-Business Conferences, Workshops, Masterclasses and online Communities. We create and deliver events in the Defence, Security, Energy, Utilities, Finance and Pharmaceutical industries. We pride ourselves on having access to the world's most forward thinking opinion leaders and visionaries, allowing us to bring our communities together to Learn, Engage, Share and Network. More information can be found at http://www.smi-online.co.uk