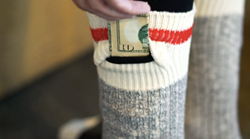 I love how easy and secure these pocket socks are.
Salt Lake City, UT. (PRWEB) October 16, 2015
Funded Inc. announced the worldwide Kickstarter release of Joey Sox, the world's first zipper-free pocket sock.
Joey Sox have such a sleek design, made of some of the most comfortable and stylized fabric; they raise the bar for all other socks on the market.
In today's world, getting places we need to go can require bringing tons of stuff along. It's time to minimize, throw it in the sock, and hit the trail!
How can people use Joey Sox? It's an excellent place to stash cash and travel necessities (especially when traveling in sketchy areas). It's Ideal for EpiPens, eye drops, medication and other things people might need quick easy access to. Joey Sox is wonderful for outdoor enthusiasts, students, runners, bikers and travelers. It works great for trips on the subway, train, bus, airplane and taxi - you can even use it at the gym.
Pickpocketers are not going to like this sock!
See more at goo.gl/FTiQpw