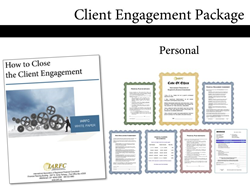 Our job has been to create these documents for our members to allow them to concentrate on what really matters - the personal relationships between consultants and clients....Ed Morrow, RFC
Middletown, OH (PRWEB) October 16, 2015
"We understand that our consultants need these engagement forms to go about their daily business," relates IARFC CEO, Ed Morrow. "Our job has been to create these documents for our members to allow them to concentrate on what really matters – the personal relationships between consultants and clients."
Central to the use of the package is a White Paper entitled "How to Close the Client Engagement." This ten-page document details how to utilize the pre-formatted certificates to build trust and ensure client satisfaction as they go through the financial planning process. The White Paper specifically defines the "where" and "when" to present the items during the introduction process.
In addition to the White Paper, the package contains certificates and forms: a Code of Ethics – assuring that the consultant will abide by ethical principles; a Non Disclosure Commitment – to protect client confidentiality and privacy; a Fee Schedule – which lists the consultant's services and their fees; a Financial Plan Assurance – providing superior financial planning and service; a Financial Engagement Agreement – signed agreement engaging the consultant and asking for fee; a Financial Plan Acceptance – signed by client acknowledging complete satisfaction with the delivered financial plan; and an Invoice – preformatted to be filled out by the consultant. All the forms can be edited to fit the needs of the consultant.
"Our members know they need to use these documents, but may not have known how to create them," comments Membership Coordinator, Amy Primeau. "Now they can purchase them from the IARFC webstore and have instant access to the material!"
The personal or business Client Engagement Packages can easily be downloaded from the IARFC store. IARFC members can take advantage of special discounts – a benefit of their membership. Certificates are in MS Word format for easier editing. For more information and to purchase products, visit the IARFC online store.