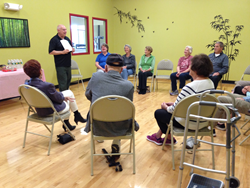 Our mission is to reduce fall risk and help people of all ages recover from balance related injuries.
Mashpee, MA (PRWEB) October 18, 2015
Last week the Mashpee Fitness Center hosted a reunion party for all past participants of Cape Cod Rehab's popular balance and stability program, Fighting Falls. Participants gathered during the lunch hour with light refreshments and shared success stories and fall prevention strategies before they took part in a friendly skiing competition on the HUMAC balance board.
Participants reminisced with the Mashpee location's Fighting Falls instructor Alan Harrison about some of the tips that they still think about on a daily basis. "Walk with an attitude. Keep your head up and walk like you're the star of the show," said Harrison as he reminded the group that one of the most basic thing to help with balance is posture. The 4-week program focuses on walking with confidence and building on the Burdenko Method fundamental principles balance, coordination and flexibility.
A 2014 participant of the program talked about how she made it through the whole winter without falling. "I know in years past I spent a lot of time with my head down. I think because the sidewalks are bad I need to look at them but now I keep my head up and I can see the sidewalk ahead of me. I'm so much better aligned. It was a simple trick but it really was life altering!"
While most of Fighting Falls aims at preventing falls, participants also learn what to do if they fall. The instructors provide them with the tools they need and techniques to successfully stand up from the floor, something that is a struggle for most older adults.
Another participant shared a story of a recent fall in front of her family members. "Five of them ran over and tried to pick me up without even asking me. One of Alan's things was don't just grab someone so I said 'I'm fine, don't pick me up, I need to get up by myself and I know how to get up by myself!'" Fighting Falls helps to build confidence while educating in a supportive, small group training environment.
The Fighting Falls program began in the fall of 2014 and has evolved to challenge participants with each 4-week session. In its first year, Cape Cod Rehab invested a lot of time and resources to grow the program. A team of Physical Therapists and trainers formed to oversee the program, research, develop testing procedures and analyze results for continued improvement.
The team's Mission Statement reads: Our mission is to reduce fall risk and help people of all ages recover from balance related injuries. Through specific and targeted interventions we will help those in need recover from fall and balance related injuries as well as prevent them from happening. We will enable individuals to lead safe, healthy live at home, in the community and on the field of play.
The Fighting Falls program starts with baseline testing to determine fall risk using the HUMAC Balance System to measure a person's ability to balance themselves under different standardized protocols and just added the Timed Up and Go (TUG) Test.
Tiffany Rozenas PT DPT CSCS has been analyzing data and the Fighting Falls progressions throughout the year. She shared, "Through structured testing and participant surveys, we have seen improvements in several participant's ability to balance on both firm and foam surfaces with eyes opened and eyes closed as well as their self-reported confidence during daily life."
Locally owned and operated for over 25 years, Cape Cod Rehab specializes in the Burdenko Method, Orthopedic and Sports Injury Physical Therapy, medical exercise prescription, along with the conditioning and training of athletes. Their motto is "Getting you back on your feet and into the game!" A new session of Fighting Falls begins every four weeks. For more information visit http://www.capecodrehab.com.