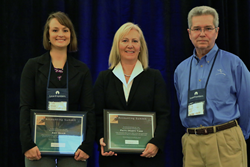 The goal of the award program is to bring the principles and practices of lean accounting into higher education, business schools, and, ultimately, companies.
Cambridge, MA (PRWEB) October 19, 2015
A graduate of Western Washington University, Bellingham, WA, and a professor at Northwood University, Midland, MI, are the winners of 2015 Excellence in Lean Accounting Awards from the nonprofit Lean Enterprise Institute (LEI).
The awards were presented to Patricia Hart Timm PhD, CPA, associate professor, interim academic dean, and accounting chair, at Northwood and Amy Shaw, who graduated from Western Washington with a double major in Accounting and Operations Management in June of 2014. She expects to receive her Certified Public Accountant's license by the end of 2015.
The awards were presented at the annual Lean Accounting Summit, October 8-9, 2015, in Jacksonville, FL. About 200 finance and operations managers from manufacturing and service companies attended the conference organized by Lean Frontiers.
"The goal of the award program is to bring the principles and practices of lean accounting into higher education, business schools, and, ultimately, companies," said Jim Huntzinger, president and founder of Lean Frontiers.
"As a nonprofit research, training, and publishing company, the Lean Enterprise Institute's
mission is essentially education," said Chet Marchwinski, LEI communications director. "So it's very fitting that LEI support and recognize professors and students who are advancing lean thinking and practice."
Applying Knowledge
The award recognizes teachers and students who attended a previous summit then applied what they learned. Winners are selected by a panel of lean accounting thought leaders.
When Shaw attended in 2013 she was inspired to bridge the gap in knowledge about lean in the academic and accounting communities. Working with Audrey Taylor, her former accounting professor at Western Washington, she wrote an article about lean practices after observing a continuing lean transformation at FastCap, a manufacturer in nearby Bellingham, WA.
In May 2015, their article was the cover story in Strategic Finance Magazine. She plans to continue publishing articles about how to apply lean thinking and practices to the public accounting profession. She currently works at Soukup Bush & Associates, a CPA firm in Fort Collins, CO.
Timm's dissertation examined the lack of adoption of lean accounting techniques, such as value-stream costing, in lean manufacturing companies. She contacted 2,307 attendees of summits from 2005–2013 and invited them to participate in an online survey. Seventy agreed and she currently is synthesizing the results into articles for publishing. She also is preparing a lean accounting curriculum for Northwood.
Accounting for Lean
Conference organizers said the lean accounting movement seeks a shift from traditional cost accounting practices to methods that accurately measure and motivate companies implementing lean management principles.
The shift is needed because traditional cost accounting does not accurately reflect the performance gains made when companies launch a lean transformation. For example, traditional financial statements do not reveal reductions in inventory or cycle times or new-found capacity in operations produced by the transformation.
Traditional accounting practices also motivate the wrong behaviors in companies implementing lean principals. For instance, conventional efficiency metrics can motivate management to create excess inventory.
About the Lean Enterprise Institute
Lean Enterprise Institute Inc., a 501(c)(3) nonprofit based in Cambridge, MA, makes things better through lean research, training, publishing, and events. Founded in 1997 by management expert James P. Womack, PhD, LEI supports other lean initiatives such as the Lean Global Network, the Lean Education Academic Network, and the Healthcare Value Network. Learn more about LEI at http://www.lean.org.
About Lean Frontiers
Since 2005 Lean Frontiers has organized tightly focused events aimed at helping organizational silos understand how they can support lean transformations across the organization. The company produces lean events for Accounting, HR, Sales and Marketing, IT, Supply Chain and Logistics, Product Development, and Business Coaching. Learn more at: http://www.leanfrontiers.com/