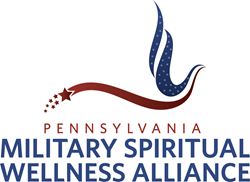 Spring Grove, PA (PRWEB) October 16, 2015
The Pennsylvania Spiritual Wellness Alliance, in cooperation with Army OneSource and Christ's American Baptist Church, will hold a Veterans Conference on "War Trauma: Impact and New Life" at Windy Hill Building located at 1472 Roth's Church Rd in Spring Grove, PA from 9:30 a.m. - 3:30 p.m. on Saturday, November 14, 2015. According to the York County Veterans Service Office, currently, there are approximately 39,000-40,000 Veterans in the York County area. Many of these brave service men and women reintegrate into the community with scars which are not just physical, but behavioral, emotional and spiritual. As they seek to heal these invisible wounds of war, veterans and their family members may naturally seek guidance, support and advice from their faith leaders.
This free one-day conference invites all veterans, families and friends, faith, civilian communities and caring persons to attend. Organizers encourage attendees to bring a friend even if they did not register in advance. Participants at the conference will receive a 5-page workbook, as well as lunch.
The subjects covered at the conference include: awareness of the impact of combat trauma and the new life veterans face afterwards; how to develop listening faith and civilian community networks; and how to practice three specific follow-up steps. With the support of the Pennsylvania Spiritual Wellness Alliance two national keynote leaders are scheduled to speak: Chaplain James D. Johnson (LTC Retired and Doctor of Ministry) and Dr. Paula Joan Caplan.
Chaplain Johnson will lead two sessions at the conference. Chaplain Johnson served in the Vietnam War and is author of, "Combat Trauma: A Personal Look at Long-term Consequences," a first-person account of post-traumatic stress disorder (PTSD). In the book, he shares the stories of fifteen combat brothers and how their daily lives are still affected forty years after the Vietnam War. Additionally, Dr. Johnson has led many events on this subject and is known for his outstanding work with veterans and families.
Dr. Paula Joan Caplan is founder and director of 'The Welcome Johnny and Jane Home Project.' Dr. Caplan is author of, "When Johnny and Jane come Marching Home: How all of us can help Veterans." She has appeared on several television shows: Oprah, The Today Show, CBS Sunday Morning, as well as hundreds of other media programs. Dr. Caplan will take part in a panel and show the documentary she directed, "Is Anybody Listening?"
The conference is made possible with the support of Christ's American Baptist Church, Pennsylvania Spiritual Wellness Alliance in cooperation with Army OneSource and other partners.
For more information and to register for this free event, contact Pastor Todd Witmer by email at todwitmer(at)aol(dot)com or call at 717.515.0046.
Media Contact:
Stephanie Grimes, State Community Support Coordinator (CT, NJ, PA), Army One Source, 412.315.9151 or sgrimes(at)afsc(dot)com.