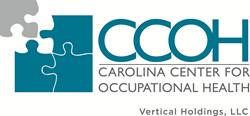 North Charleston, SC (PRWEB) October 20, 2015
The Carolina Center for Occupational Health (CCOH) welcomed the following companies as partners in health for their workforce.
AAR Roofing & Sheet Metal Company
Allied Medical Staffing
All South Electrical LLC
Anchor Electric and Control LLC
Chubb Group of Insurance Company
Dogs of War, LLC
FocusStaff
DuPont
Maxson and Associates
McCarthy Tire Service Company
Murco Elder Care
Penhall Construction
Piedmont Hoist and Crane
Ren Frow Brothers Inc. & Opsource
Southeast Miscellaneous Erectors
Sowell Gray Stepp & Laffitte, LLC
The Conti Group
Veterans Express
We Are Just Like Family, LLC
During the month of September, CCOH saw more than 2,026 patients for nearly 200 clients.
About The Carolina Center for Occupational Health:
The Carolina Center for Occupational Health (CCOH) is one of the state's largest independent medical providers specializing in occupational and industrial medicine. They provide work related injury care & treatment, employment physicals, government mandated surveillance testing programs, drug and alcohol screening, and DOT mandated examinations as well as numerous immunizations for diseases such as influenza, Hepatitis A&B, and tetanus- diphtheria among others. CCOH currently serves the medical needs of over 400 employers. Visit http://www.ccohcares.com or call 843-554-1029 to learn more.