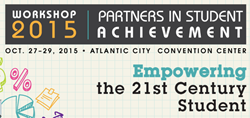 The convergence of IT and interactive teaching methodologies is revolutionizing the way students learn...
Teterboro, NJ (PRWEB) October 20, 2015
Computer Design and Integration LLC (CDI LLC) today announced that it will sponsor, present and exhibit at the New Jersey School Boards Association (NJSBA) Workshop 2015, held October 27-29, 2015 at the Atlantic City Convention Center, Atlantic City, NJ. The annual event is the largest training and information conference for school officials in the state. A platinum sponsor of this year's event, CDI LLC will host one learning lab and two group sessions centered around the event theme, "Empowering the 21st Century Student."
Led by Ian Erikson, senior solutions architect, a CDI LLC-hosted learning lab on hyperconverged technology and addressing modern IT needs for 21st century learning will be offered. Participants will be exposed to more detailed use cases and actual data center designs with hyperconverged technology. The session will take a deep dive into the physical hardware, disaster recovery and backup plans and offer a walk-through of the interface and most common operating procedures. Participants can attend this session on October 28, 2015 at 10:00 a.m. in the Florio Perrucci Steinhardt & Fader Learning Lab at the Atlantic City Convention Center, One Convention Center Boulevard, Atlantic City, NJ.
Later that day, CDI LLC will host two 60-minute group sessions. In the first session, "Hyperconverged IT: Simple Building Blocks to Enable 21st Century Learning," Erikson will focus on the role hyperconverged technology plays in the evolving interactive teaching methodologies. With 21st century education platforms continuing to present a challenge to existing IT capabilities and budgets, this session will cover industry trends around data center infrastructure, hyperconverged technology use cases and how these blocks ultimately become complete IT solutions. The session is scheduled for October 28 at 1:00 p.m. in room 415 of the Convention Center.
A second session, "Collaboration: A Better Way of Leveraging Technology," is scheduled for October 28 at 2:30 p.m. in room 410 of the Convention Center. Led by Kenneth Graziano, senior technical consultant, Unified Communications, CDI LLC, it will feature a discussion on how Cisco collaboration can help increase productivity within specific education environments to further address 21st century learning needs.
"We're excited to participate in this year's NJSBA Workshop," said Frank Romano, vice president, Engineering and Service Delivery, CDI LLC. "The convergence of IT and interactive teaching methodologies is revolutionizing the way students learn and our sessions will address strategies for constructing and supporting that 21st century learning environment," he added.
CDI LLC, a platinum event sponsor, will also be an exhibitor in the main exhibit hall at booth 645, where booth attendees can discuss their IT solutions needs and participate in various contests that include social media posting and engagement.
The annual Workshop Conference draws over 7,500 attendees and is the destination where educational decision-makers from across New Jersey come to find solutions to the challenges they face in their school districts.
About Computer Design & Integration (CDI LLC):
CDI LLC was founded in 1995, with corporate headquarters in Teterboro, NJ, as well as office locations in New York City, Philadelphia, Charlotte and Atlanta. The firm has been recognized as one of the nation's top 500 IT solution providers offering clients and businesses of all sizes the most up-to-date hybrid IT technology solutions that solve today's most complex business challenges. CDI LLC continually focuses on achieving client satisfaction by developing and implementing comprehensive and innovative technology solutions that enhance day-to-day business workflow processes. As one of the largest solution providers, CDI LLC combines the required experience, exceptional talent, quality assurance and stability that its clients strive to achieve.
For more information, visit cdillc.com or call 1-800-234-5531. Follow us for continual coverage on Twitter @cdillc or via our YouTube Channel.